Description
Please join Independent Women's Forum for an indepth, lunchtime briefing on a new, modern approach to paid parental leave benefits.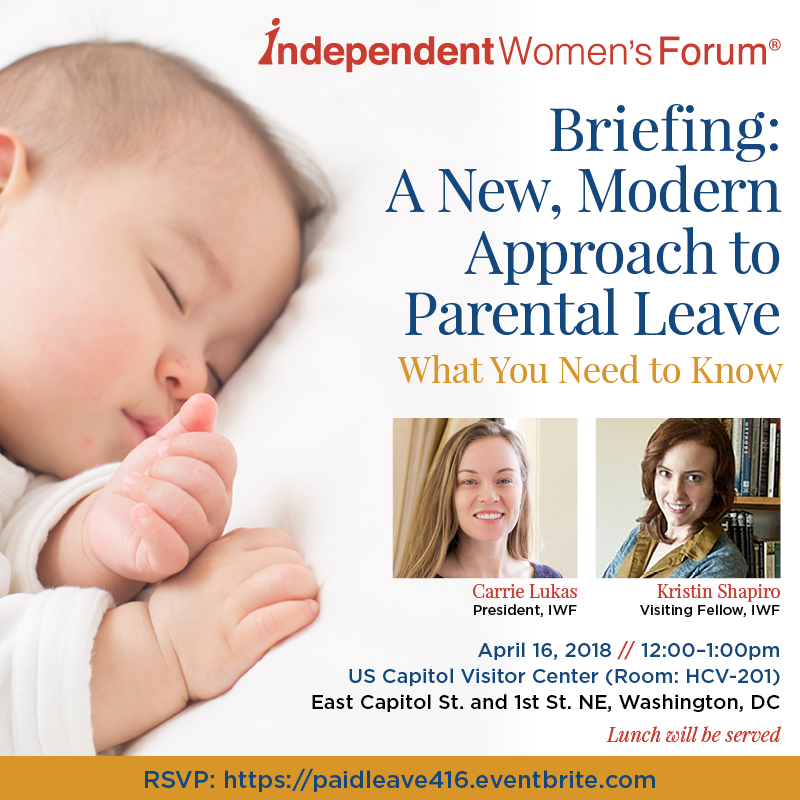 The concept of providing paid leave to new parents so that they may care for their newborn children has widespread bipartisan support. Despite its popularity, the United States is the only industrialized nation that does not mandate or subsidize at least some form of paid parental leave.
One impediment to providing paid parental leave is the cost. However, there is a way for the federal government to provide paid parental leave to every worker in the United States at no additional cost: offer new parents the opportunity to collect early Social Security benefits after the arrival of their child in exchange for their agreeing to defer the collection of their Social Security retirement benefits.
The deferral period would be calculated to be long enough to offset the cost of providing Social Security parental benefits. While this issue requires further study, preliminary estimates suggest that in order to offset the cost of 12 weeks of parental benefits, new parents electing this option would only need to defer their Social Security retirement benefits by six weeks.
New parents deserve this choice. Social Security is premised on the assumption that it is more important for workers to have their money when they are older than when they are younger. But many new parents understandably might decide that having 12 weeks of paid leave to care for their new child is worth a short deferral of their retirement benefits.
Policymakers should consider this idea, which represents an affordable, budget-neutral approach to providing paid parental leave to American workers.
FEATURING:
CARRIE LUKAS
President, Independent Women's Forum
Carrie L. Lukas is the president of Independent Women's Forum. Lukas is the co-author of Liberty Is No War on Women, and the author of The Politically Incorrect Guide to Women, Sex, and Feminism, which was published by Regnery Publishing. She is also a contributor to National Review, Forbes.com, and Acculturated; and the vice president for policy and economics at Independent Women's Voice.
Lukas has written for The Wall Street Journal, The Washington Post, USA Today, and The New York Post. Carrie has testified before the House Ways and Means Subcommittee on Social Security.
Before joining IWF in 2003, she worked on Capitol Hill as the senior domestic policy analyst for the House Republican Policy Committee and at the Cato Institute. She is a graduate of Princeton University and Harvard's Kennedy School of Government. She lives with her husband and five children in Virginia.
KRISTIN SHAPIRO
Visiting Fellow, Independent Women's Forum
Kristin Shapiro is a visiting fellow with Independent Women's Forum Kristin received her bachelor of arts degree from New York University, magna cum laude, in 2004, majoring in Sociology and Gender and Sexuality Studies. After graduating from NYU, she served for two years as the Special Projects Officer of the IMPACT Coalition, the non-profit corporation that ran the New York Urban Debate League. At IMPACT, Kristin directed an after-school debate resource center for students in the Bronx and taught a debate class at Rikers Island Penitentiary.

Kristin received her law degree from Northwestern University School of Law, magna cum laude, in 2009, where she served on the editorial board of the Northwestern University Law Review and graduated second in her class. After law school, Kristin clerked for Chief Judge Alex Kozinski on the United States Court of Appeals for the Ninth Circuit. Kristin was then an associate at Williams & Connolly LLP, a DC law firm, for six years, where she litigated numerous cases in the United States Supreme Court and the federal courts of appeal and district courts. In 2016, Kristin was selected by SuperLawyers as a Rising Star in the DC area.
Kristin's commentary has appeared in the Wall Street Journal, Corporate Counsel, and Law360. Kristin lives in Falls Church, Virginia, with her husband and two children.
Lunch will be served.
Questions? Please contact events@iwf.org