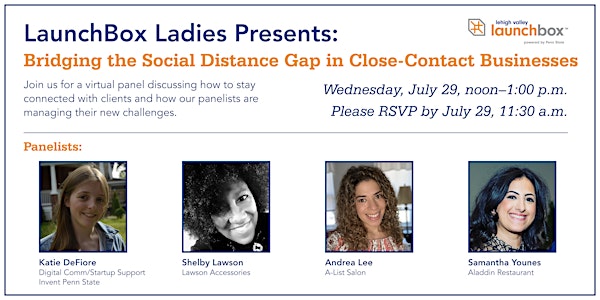 Bridging the Social Distance Gap in Close-Contact Businesses
Join us for a virtual panel to discuss the pivot in close contact businesses and how some women entrepreneurs have adapted during COVID-19.
About this event
LaunchBox Ladies is an educational series focusing on the unique challenges and victories of female entrepreneurs who impact the Lehigh Valley and beyond.
Join us on July 29, 2020 @ 12:00 pm as we present a virtual LaunchBox Ladies speaker event titled "Bridging the Social Distance Gap in Close-Contact Businesses". This program will showcase three Lehigh Valley female business owners who are creating connections with their clients in a social distance new normal in businesses that require close contact with their customers. These successful women will share their stores of how they are managing their new challenges while following the required safety protocols for their businesses. Join us for the discussion with:
Shelby Lawson, owner of Lawson Accessories
Samantha Younes, Front of House Manager, Aladdin Restaurant
Andrea Lee, owner A-List Salon
This program will be moderated by Katie DeFiore, Digital Communications Specialist at Invent Penn State.
For This Event: At the end of the program, we will be inviting all attendees to stay on the webinar and for those that stay we will enable your videos to allow for some networking time with the other LaunchBox Ladies attendees. We miss seeing you in person!