Bridging the Gap to Home Ownership - Greater Chatham Trolley Tour and Healt...
Description


Join GCI for our Grater Chatham Trolley Tour - Bridging the Gap to Home Ownership
If you're ready to buy a home in the next 6-12 months this event is for you. Come tour homes and meet realtors and lenders who can help you get on track to homeownership. Learn about Downpayment Assistance and special programs for First Responders.
Visit our MMRP landing page for more information on programs and resources
Logistics
We will meet at the Medical Center Building, which is located at 200 E. 75th Street between
10:30 am and 11:00 am We would leave promptly at 11:00 am. We will tour properties in the Greater Chatham area. We will return to the 200 E. 75th Street building by 1:00 pm.
Thrive on the 5 -Greater Chatham Health Day in collaboration with the City of Chicago, Department of Health and Haji Healing Salon.
Upon your return join us for our Greater Chatham Heath Day from 1 pm to 5 pm
Enjoy Haji's Healing Salon, our KidZone and more...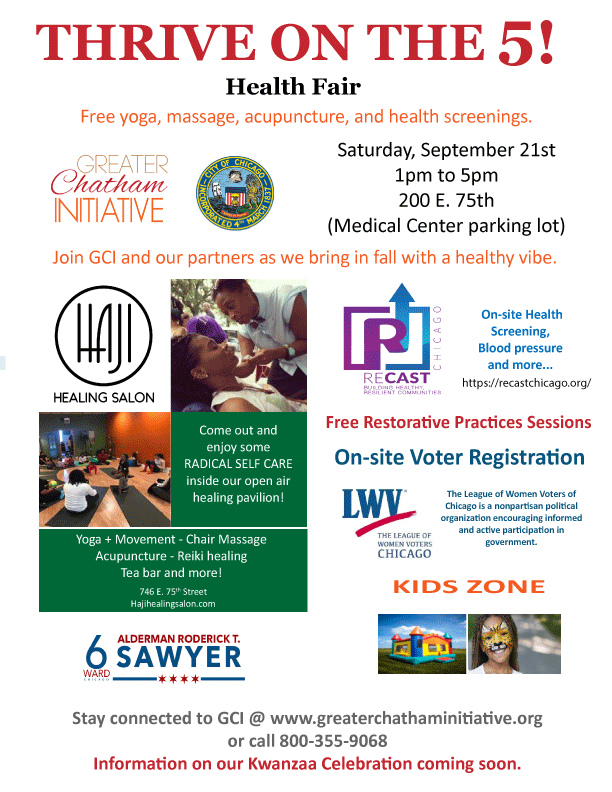 Then stop by one of our Chatham Center Chicago restaurants on Restaurant Row, 75th Street
(Indiana to Langley) for a meal, treat or beverage. Dine-In or take out.
Original Soul Vegetarian - Mabe's Deli - Lem's Bar-B-Q - Brown Sugar Bakery - Five Loaves Eatery
Harold's Chicken #24 - Wings Around The World - Flammin Restaurant - A&S Beverages - Frances Lounge


For more information please contact:

Ethan Lassiter, AICP
Project Manager
Greater Chatham Initiative
direct: 773-644-1451 x105
ethan@greaterchathaminitiative.org