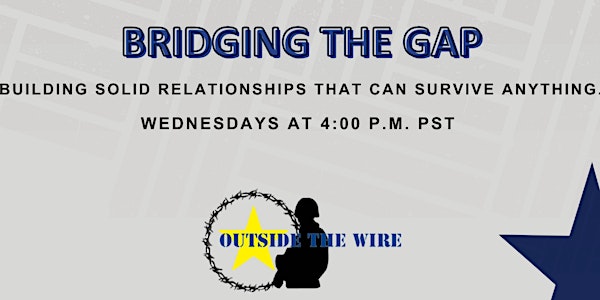 Bridging The Gap
Bridging The Gap with U.S.VETS-Orange County-Outside the Wire
About this event
Bridging the Gap: Learn tools to building solid relationships that can survive anything. This weekly support group invites college student veterans to engage with one another and bridge the gap from military service to student life. Join us virtually every Wednesday at 4:00 PM.
For More Information about Outside the Wire and U.S. VETS, visit our website: www.usvets.org
To Schedule a Free & Confidential Appointment, call our toll free number: (888) 556-9993
Need to reach out for Case Management Services or Counseling Support?
Simply Call US @: (888) 556-9993
About U.S.VETS
U.S.VETS is on a mission to end veteran homelessness in the United States. "The streets" are simply no place for veterans; no place for the many men and women who volunteered, giving of themselves and their youth, to protect our great freedoms.
We believe all veterans deserve every opportunity to live with dignity and independence. It is our duty at U.S.VETS to deliver on our promise to always serve those who've served. Learn more about U.S.VETS.