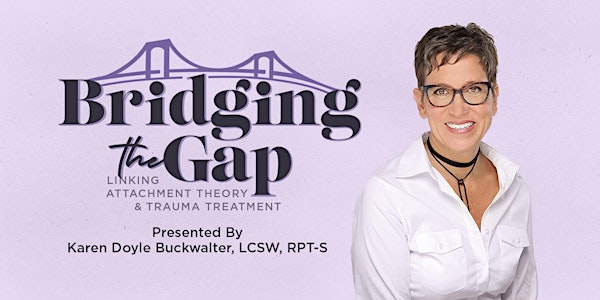 Bridging the Gap: Linking Attachment Theory and Trauma Treatment
FREE 5 Day Workshop with Karen Doyle Buckwalter, LCSW, RPT-S
About this event
Bridging the Gap: Linking Attachment Theory and Trauma Treatment is a FREE 5 Day Workshop with Karen Doyle Buckwalter, LCSW, RPT-S featuring daily 30-minute live webinars!
Why you don't want to miss this series:
As therapists, we often feel confounded in our work with attachment and trauma-related difficulties in the children and adolescents who come to us for help. Attachment and trauma research seems to exist in parallel universes. My 5-day workshop links both these worlds together in illuminating, impactful and practical ways.
Join me LIVE (or on-demand) for the 5 daily 30-minute webinars starting Monday, December 12th through Friday December 16th.
11:00 a.m. - 11:30 a.m. EST
10:00 a.m. - 10:30 a.m. CST
9:00 a.m. - 9:30 a.m. MST
8:00 a.m. - 8:30 a.m. PST
Not only will you grow in your knowledge of developmental trauma and attachment, but there will be exciting opportunities throughout! We will have lots of prizes, practical tools and downloads, and FUN! It's all happening in a BRAND NEW Facebook group created JUST FOR THIS TRAINING (you'll get a special invite after you sign up in eventbrite).
Once registered, we will provide you with a link to join the exclusive 5 Day Workshop Facebook Group!