Description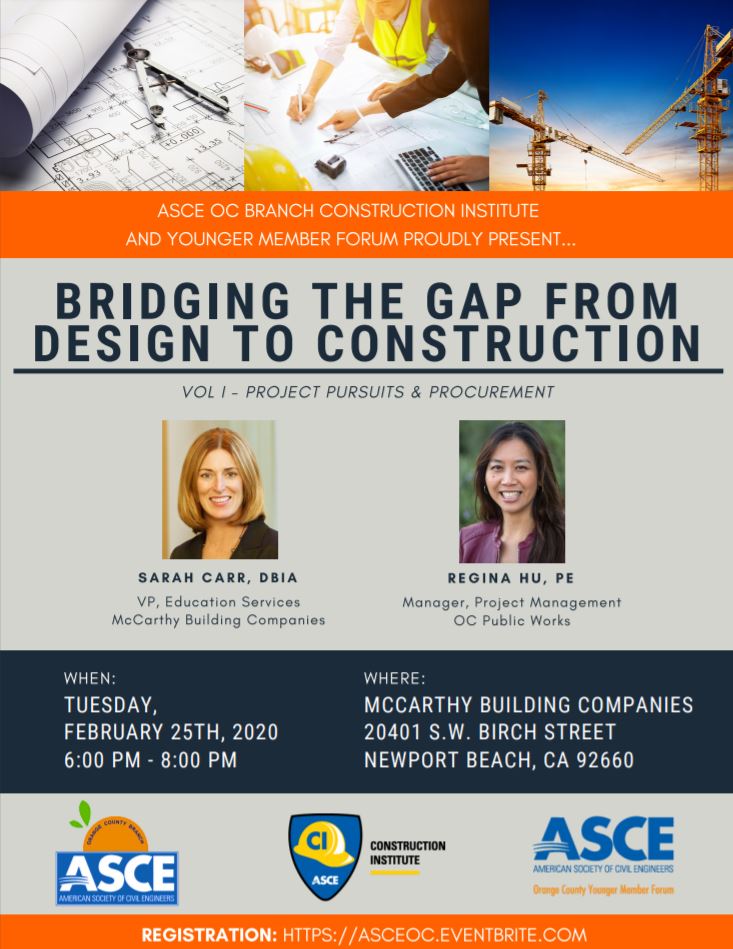 Bridging the Gap from Design to Construction
Bridging the Gap from Design to Construction a series of interactive seminars covering all aspects of projects including field explorations, earthwork excavations, wet utility designs, material and equipment comparisons, cost estimates, As-Builts and so much more. Each seminar will cover an in-depth subject with a resident expert on the respective topic. We highly encourage construction project engineers, design engineers, project managers and anyone else interested in expanding their design and construction knowledge. The objective of this series is to be a source of continuing education so attendees can become well-rounded individuals in their field and be able to provide more value to their clients.
Volume I - Project Pursuits & Procurement
How is a project created? What is project procurement? How do designers and contractors hear about projects? How is a design-build project proposal different from a design-bid-build project proposal? What is the level of effort to prepare a proposal for services? What is a design team? What is a performance bond and why does a contractor need one? These might be common questions about how designers and contractors become involved on projects. Join us to discover the answers to all your burning questions and learn about topics "I wish I would have known" when it comes to tracking and winning projects.
Our two presenters will be Sarah Carr and Regina Hu.
As Vice President, Sarah Carr is focused on building strong relationships with clients and industry partners in the Southern California education market. Sarah brings more than two decades of field and operations experience to her role, having held a variety of operations positions including vice president operations, project manager, assistant project manager, senior project engineer and project engineer. Committed to helping other women in the construction industry develop and succeed, Sarah was co-founder of Women in Construction Operations (WiOPS) in 2013 and currently sits on the organization's National board of directors. A Designated Design-Build Professional and LEED AP BD+C with the U.S. Green Building Council, Sarah is board member for the Associated General Contractors of California and AGC's Construction Education Foundation.
Regina Hu is a professional civil engineer currently working for Orange County Public Works as a manager of Project/ Program Management. She holds a BS from UC Irvine and a MS from Stanford University. Her PM team delivers over $800M worth of horizontal Capital Improvement Projects countywide. Prior to the public sector, Regina worked for HNTB, Psomas, and Hill International.