Event Information
Refund Policy
Refunds up to 1 day before event
Grab a morning coffee and join us for three interactive project leadership sessions followed by a professional networking hour!
About this Event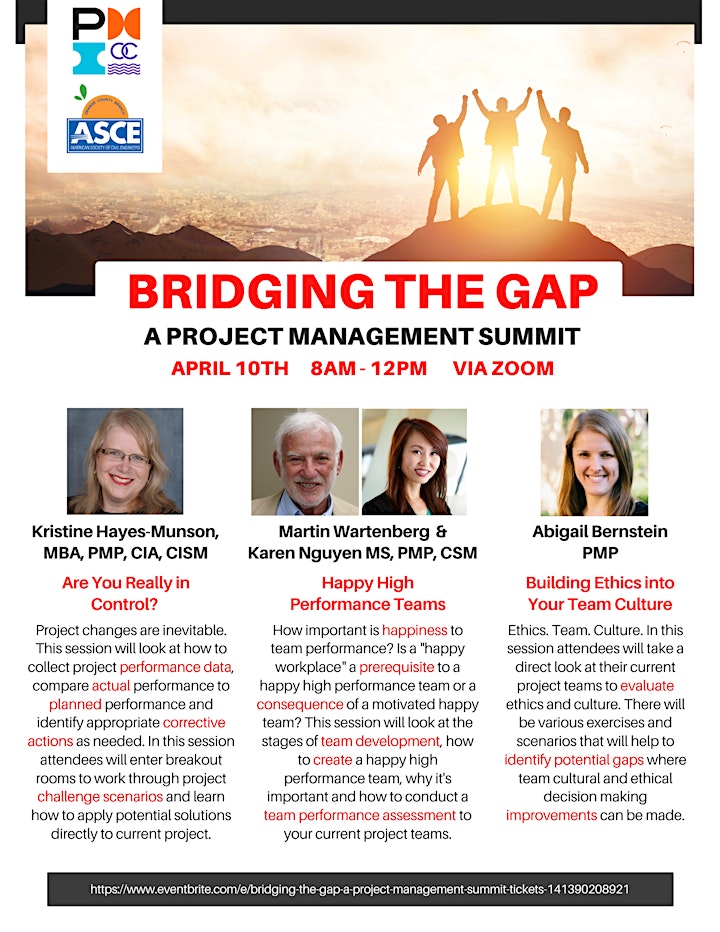 Jointly hosted by the Project Management Institute - Orange County (PMI-OC) and the American Society of Civil Engineers Orange County (ASCE OC) Branch Professional Development Committee, we present a 4 hour seminar on developing Project Leadership. Attendees will earn 3.5 PDHs.
Pricing:
$60 - General Admission
$30 - Veterans, Unemployed, Retired and Students
Event Logistics:
8:00 AM - Webinar open for joining
8:30 AM - Welcome & Introductions
8:40 AM - "Are you Really in Control", Kristine Munson
9:40 AM - "Building a Positive Team Culture", Abigail Bernstein
11:10 AM - Break
11:15 AM - "Value and Creation of a Happy High Performance Team", Karen Nguyen & Martin Wartenberg
12:15 PM - Closing remarks
12:20 PM - Breakout rooms (optional)
Sessions
Session 1 - How do you know the status of your own project? Are you really in control? presented by Kristine Hayes- Munson MBA, PMP, CISM, CIA.
Project changes are inevitable. This session will look at how to collect project performance data, compare actual performance to planned performance and identify appropriate corrective actions as needed. In this session attendees will enter breakout rooms to work through project challenge scenarios and learn how to apply potential solutions directly to current project.
Objectives:
Identify how a project manager translates the information gathered regarding project execution into actionable knowledge to be used to monitor and control a project.
Explore when should the decision be made to take corrective action or when should the decision be made to allow the project to continue "as is."
Examine the unintended consequences of taking corrective actions and argue that project managers should seriously consider allowing the project to continue "as is."
Session 2 - Building Ethics into your Team Culture presented by Abigail Bernstein PMP.
Ethics. Team. Culture. In this session attendees will take a direct look at their current project teams to evaluate ethics and culture. There will be various exercises and scenarios that will help to identify potential gaps where team cultural and ethical decision making improvements can be made.
Objectives:
Discuss using leadership to establish and maintain an ethical team culture and applying that ethical framework to everyday decision-making.
Session 3 - Happy High Performance Teams presented by Karen Nguyen MS, PMP, CSM and Martin Wartenberg.
Description:
Why is it important to build a high-performance team? Building a productive team to deliver quality is a very important aspect of improving efficiency and productivity on a project. The goal is always to deliver on or ahead of schedule, within the budget, and satisfy the customer. A high-performing team will almost always deliver results. Unfortunately, not all project team leaders know how to build their team to the level of competence and efficiency. Another aspect is the importance of the team being happy and committed to the goals and objectives of the project. This vital factor has helped Google, Wind River (Intel), and other organizations achieve superb results on complex high technology projects. PMI has recognized the importance of Team Building by the increased content in PMBOK 7.
Objectives:
• Collaborate on the various leadership styles and effectiveness
• Learn and apply specific tips from industry and organizational best practices
• Review regular team performance assessments and readiness measurements
• Align teams around project vision and clear actions
• Measure team performance through clear accountability and metrics
• Analyze and evaluate team performance models
• Review special considerations for virtual work considerations and virtual teams
Biographies
Kristine Hayes- Munson MBA, PMP, CISM, CIA
Kristine A. Hayes Munson, MBA, PMP, CISM, CIA, is an IT leader with a proven track record of successfully completing projects in the financial services industry. She specializes in implementing high-profile, cross-discipline projects resulting in deliverables aligned with the organization's strategic objectives. She oversees a risk and compliance program balancing internal controls, regulatory requirement, information security best practices, and entrepreneurialism.
Ms. Hayes Munson's interactive presentations and courses integrate project management theory with hands-on, experiential learning. She has presented multiple PMI-Orange County Advanced Topic Seminars as well as presented at PMI NA Global Congress (Vancouver and San Diego), Southland Technology Conference (SoTeC) and other professional association events. She serves as a University of California Irvine Extension's project management certificate program instructor.
PMI-OC recognized Ms. Hayes Munson as a PMI-OC Fellow. She remains an active chapter volunteer as a PMP preparation course instructor and New Member Orientation presenter.
Abigail Bernstein PMP
Abby Bernstein is the Senior Project Manager in the I.T. department at Roth Staffing Companies, L.P., which is one of the largest privately-held staffing companies in the country. She has worked there for 9 years and earned her PMP certification in July of 2018.
Karen Nguyen, MS, PMP, CSM has over 20 years of experience in practicing and teaching traditional and agile project management framework, principles, and theories. She is currently an instructor at UCSD and UCI teaching their business programs, corporate partners, and international programs. Karen has extensive experience overseeing a large portfolio of enterprise-based systems along with various corporate strategic planning and development of national improvement initiatives. She recently formed two corporations amid COVID-19 to inspire others to think strategically and positivity for new opportunities. Her passion is to deliver value and equip students with a distinctive of leadership skills for real-world experience and application. To help others to achieve their success, Karen is a motivational speaker for organizations and charity events across the U.S.
Martin Wartenberg has over 40 years of experience in High Technology Companies and in every position from Engineer to Vice President of Research and Development and Company Senior Executive (CEO and COO). Martin has taught Project Management, Product Development, and Creativity & Innovation at UCI, UCSD and UCSC. He has also taught and consulted with companies in Europe, Asia, South America, and Middle East. His experiences include New Product Development, Medical Devices and Instrumentation, and Oil Field Instrumentation as well as both Military and Commercial Aerospace. Marty is currently working with UCI delivering project management courses in the International Accelerated Program along with delivering classes and building high-performance teams to companies in the United States and China.
If you have any questions please email PDC@asceoc.org.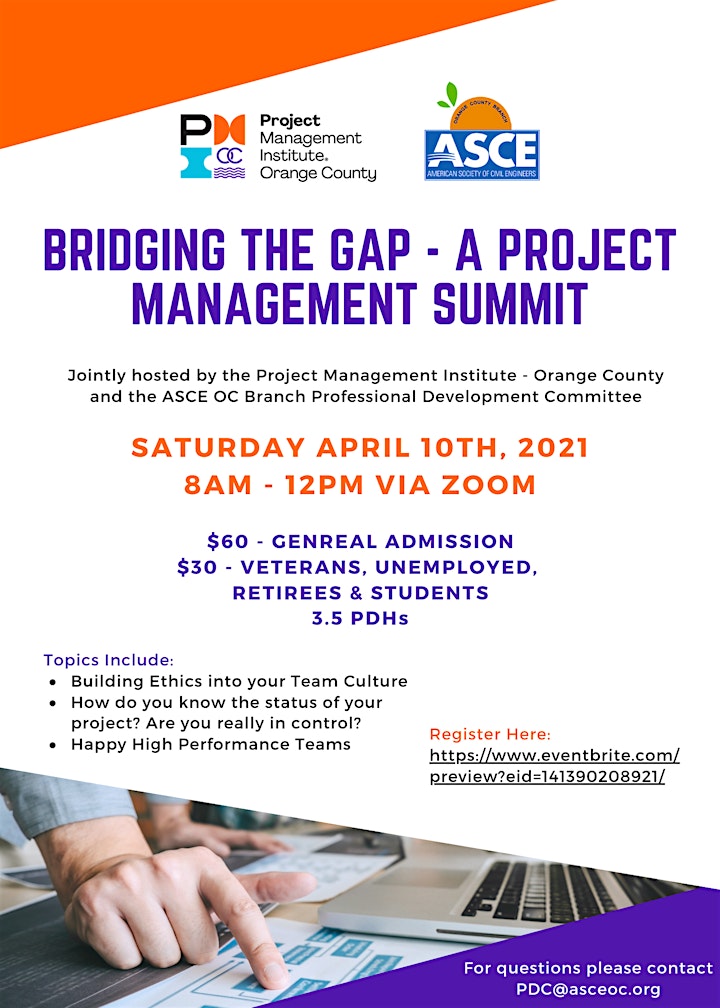 Date and Time
Location
Refund Policy
Refunds up to 1 day before event