Description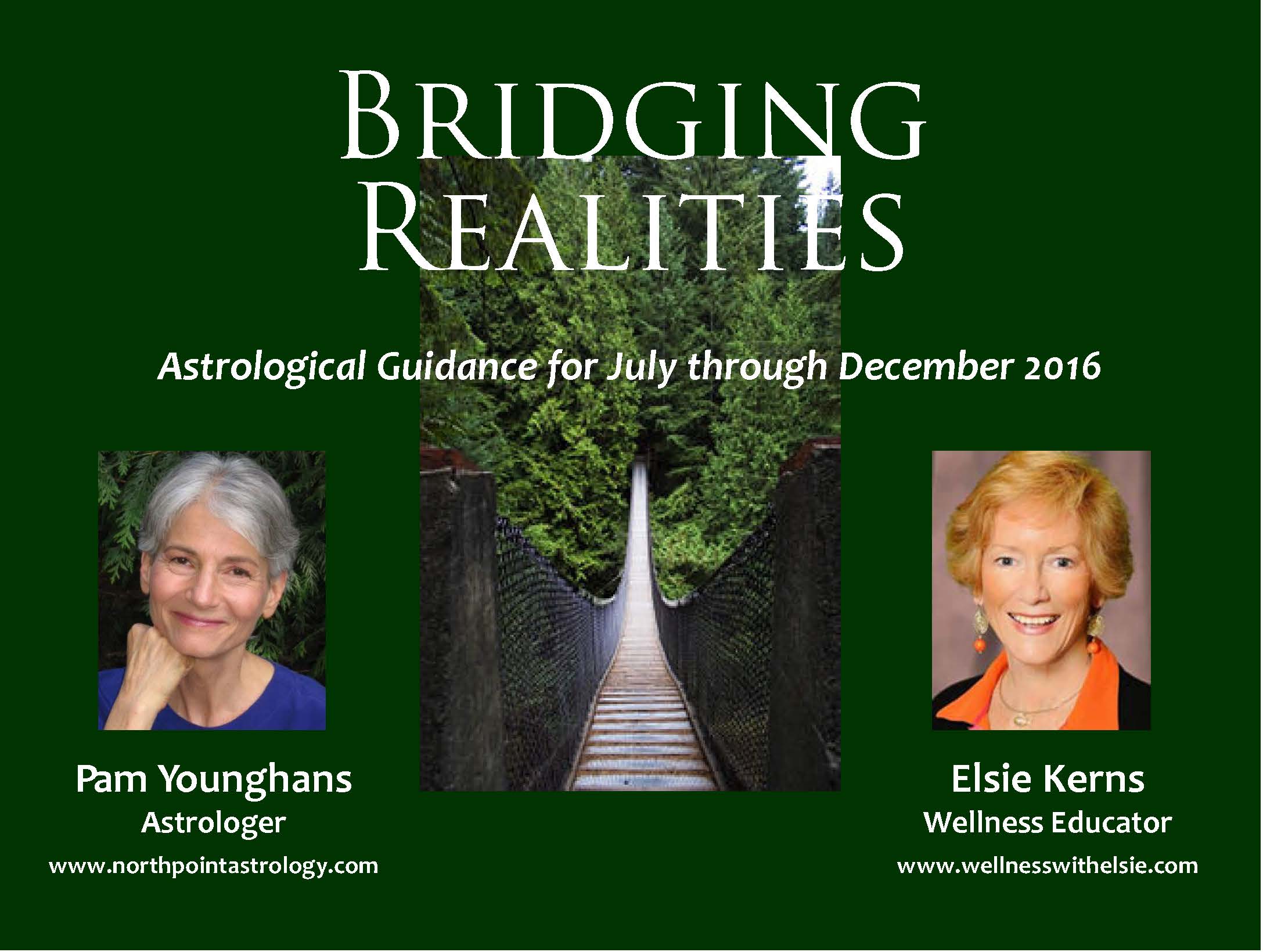 BRIDGING REALITIES
The Second Six Months of 2016
Guidance through the Lens
of Astrologer Pam Younghans
and Moderator Elsie Kerns
Thursday, June 30th
7-8:30pm EDT, 4-5:30pm PDT, 5-6:30pm MDT, 6-7:30pm CDT
Register NOW!
https://pamjune2016.eventbrite.com
Are you ready to take a peek into the next six months? Join us for our upcoming teleclass/webinar covering astrological influences for the last half of 2016!
Our teleclass is called "Bridging Realities," because that's exactly where we are as we enter the last half of the calendar year. Like the bridge in this image, many are feeling suspended between realities right now. During the first six months of 2016, we've been through many tests of faith and have needed to allow old forms to dissolve. We've faced disillusionment and have been challenged to find deeper meanings in our life experience – but we may feel we are still mid-span, not yet able to touch ground on the other side of the bridge.
The planets holding the bridge we are traversing are Saturn and Neptune. These two planets have been at odds since their square aspect began last November. Together, they have been challenging us to rise above obstacles, move beyond disappointment and loss, and find a stronger connection to our own sense of life's purpose and meaning.
This Saturn-Neptune square, and its completion in the fall, will be one of the focal points of our teleclass – but, of course, we'll also talk about many other planetary events and their effects. As before, we'll walk through each month week-by-week and provide insights into what will be going on astrologically and what we might expect energetically.
Here are some of the events we'll be talking about:
Challenges and opportunities as Mars aligns with Saturn and squares Neptune in late August

Two eclipses in September and how they impact our collective and individual evolution

The changes of season – the equinox in September and solstice in December – and what they tell us about the three months that follow

The shift that occurs when Jupiter leaves Virgo and begins its year-long transit through Libra

Mercury's two retrograde periods (September and December) and how to navigate them

Neptune's alignment with the South Node in November, and its intention for karmic release and resolution

December's launch of two aspects that will carry us through most of 2017: the supportive Saturn-Uranus trine and the challenging Saturn-Chiron square
Please join us on Thursday, June 30th as we look through Pam's astrologer lens at the second half of 2016! And don't worry if you can't attend the teleclass live – we always record our classes, and everyone who registers for the class receives an email afterward with a link to the recording and the PDF of the slideshow.
As before, you will receive calendars of the astrological aspects for each month before the 30th, so that you can take notes during the class.
REGISTRATION AND PAYMENT: When you register online, you may pay with PayPal -- or you can click on "Show other payment options." This option allows you to register and pay by check made out to: Elsie Kerns 2007 Rabbit Run Rd., Marlton, NJ 08053.
Questions? Contact Elsie at: elsie@wellnesswithelsie.com or 856.988.7426