Description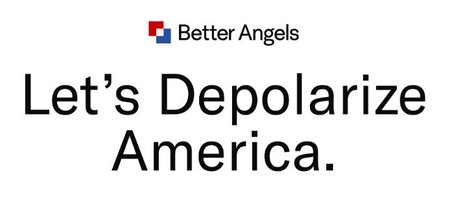 "We are not enemies, but friends. We must not be enemies. Though passion may have strained, it must not break our bonds of affection. The mystic chords of memory…will yet swell the chorus of the Union, when again touched, as surely they will be, by the better angels of our nature."
– Abraham Lincoln, 1861


Please join us for an intensive workshop that will bring together citizens from opposite ends of the political spectrum for a day of structured conversations, with a focus on listening and reflecting rather than debating and persuading.
Better Angels seeks to bring together Americans for the sake of the future of our country, to look beyond the politics and special interests that are dividing Americans and pitting us against each other.
The workshop's goals are to:
better understand the experiences and beliefs of those on the other side of the political divide.
seek out areas of common ground in addition to acknowledging and respecting differences.
gain insights that might help to heal the increasing polarization in our community and the nation.

The Details
When is the workshop? Saturday, January 12, 2019. Please arrive at 9:30 a.m., so we can officially begin the workshop around 10. We will break for lunch around 12, and the workshop will conclude at 5 p.m.
Where is the workshop? Christ Lutheran Church, 5101 16th Street NW in Washington, D.C. The church is on the eastern side of 16th Street, between Gallatin and Hamilton streets. It's across the street from the Rock Creek Park Tennis Center. The church has a small parking lot and there will be plenty of free street parking available. The Metrobus S1, S2 and S4 lines also run frequently past the Church on 16th Street, between Silver Spring and Dupont Circle.
Who can come? Anyone interested in developing a deeper understanding of, and connection with, people whose political beliefs differ from their own.

Who participates in the workshop? Anyone who registers (participant spots are very limited). Red participants are those who lean Conservative/Libertarian/Republican. Blue participants are those who lean Liberal/Progressive/Democrat. The Red and Blue side will each have 6-8 participants, who will engage in small- and large-group discussions throughout the day with individuals of both the same and different political persuasions.
Can I observe the workshop without formally participating? Yes! Workshop observers will not participate in the discussions directly but will have the opportunity to watch and listen throughout the day, as well as to join the participants for conversations during lunch and break times.
Will there be food? Coffee, tea and light snacks will be available, and freewill donations will be gratefully accepted. We ask that all participants and observers bring a brown-bag lunch and water bottle with them. A refrigerator and microwave are available on-site.
What happens after the workshop? After the workshop ends at 5 p.m., we plan to have an optional dinner at a nearby restaurant, for those participants and observers who would like to continue the conversation. Beyond the day of the workshop, Better Angels strongly encourages the formation of Red/Blue Alliances, which are local groups of people who have participated in a Better Angels workshop, have become dues-paying members, and want to help unify America and promote better public policy.

Other questions? Email the Blue organizer Dan Schiff (dschiff1212@gmail.com) and/or the Red organizer Gail Weiss (gail.greentree@gmail.com).
---
About our host, Christ Lutheran Church:
Christ Lutheran Church is a diverse and open community, based in the Gospel. Located at the corner of Sixteenth and Gallatin Streets in upper northwest Washington, Christ Lutheran welcomes all to its community and to its worship. Christ Lutheran is a "Reconciling in Christ" congregation, believing that the Good News of God's grace is for all, regardless of age, abilities, physical and mental health, race, sexual orientation, gender identity, education, income or strength of faith. Christ Lutheran has been led by Pastor Renata Eustis since 2001.