Description
On October 5, 2017, EPHC will be reviewing the final component of the new CMS Emergency Preparedness Rule, Training and Testing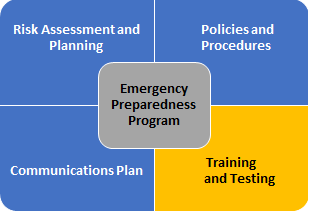 Join us as guest speaker, Lt. George Karawanny, TLO of the Northern California Regional Intelligence Center (NCRIC) speaks to us on Responding to Terrorism in Healthcare Settings.

Lt. George Karawanny has been with the San Francisco Fire Department for over 22 years; the last 4 1/2
years of which he has been detailed full time to the Northern California Regional Intelligence Center
(NCRIC). He works in NCRIC's Outreach Program as an Intelligence Officer and as the Terrorism Liaison
Officer (TLO) Coordinator for the Fire/EMS Public Safety Community. He has taken over a hundred
Terrorism related classes and participated in several dozen Seminars, Exercises & Conferences on
Homeland Security topics.
EPHC will also host the 2017 Statewide Medical Health (SWMHE) tabletop exercise for coalition members to participate. There is no pre-requisist is required for participating in the tabletop exercise. The topic will be unveiled the day of the event. Participation in the tabletop will meet the second exercise requirement under the new CMS Emergency Preparedness Rule.

Please contact Marina Zamarron with questions at marina.zamarron@phd.sccgov.org.