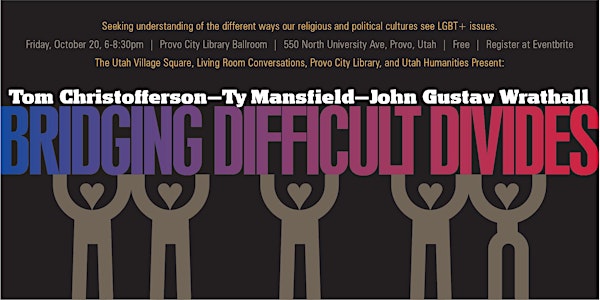 Bridging Difficult Divides: That We May Be One
When and where
Location
Provo City Library at Academy Square 550 North University Avenue Provo, UT 84601
Description
A social event, dinner, and exercise in civil discourse all rolled into one! Maybe you have a family member, Facebook friend, or work colleague whose opinions are so far from your own that you struggle to relate. Or maybe everyone you know thinks exactly the same way you do. Our social and political climate is increasingly divisive, but we are all members of the same community. This FREE event is all about bridging ideological divides with good old fashioned, face to face conversation.
Bridging Difficult Divides: That We May Be One, A Conversation with Tom Christofferson and his buddies John and Ty
Tom Christofferson, author of That We May Be One: A Gay Mormon's Perspective on Faith and Family will be joined by Ty Mansfield, Former President of North Star International and John Gustav Wrathall, Executive Director of Affirmation, LGBT Mormons, Families, and Friends. They will discuss Tom's book and the ideas and issues that affect each of their lives.
Attendees will have a chance to ask a few questions and then carry on the dialogue at their respective tables. Come prepared to get to know somebody new and challenge your own perspectives by engaging with others in a spirit of curiosity.
This is a free event but space is limited so you must reserve a ticket. Please be responsible with your reservation, and if you are unable to attend, please cancel your reservation ASAP. Attendance at our dialogue events is crucial and unused reservations prohibit others from attending.
Due to popularity, unclaimed seats will be offered to others at 6:20 pm. Please arrive at 6:00.