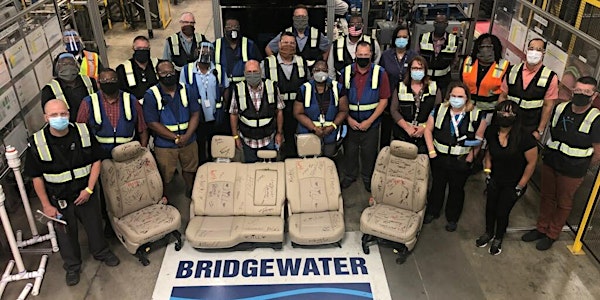 Bridgewater Interiors – Warren Job Interviews - Feb. & March of 2021
We're hiring! Bridgewater Interiors will be conducting interviews at our Warren facility for our production operators across various shifts!
When and where
Location
UAW Region 1 – Pavilion 27800 George Merrilli Drive Warren, MI 48092
About this event
***ATTENTION: THIS EVENT IS NOT SOLD OUT!
SIGN UP FOR OUR JOB INTERVIEWS BY CLICKING ONE OF THE LINKS AT THE BOTTOM OF THIS PAGE.
OR YOU CAN CHOOSE TO COME TO OUR OPEN INTERVIEWS! YOU CAN WALK IN FOR AN INTERVIEW AT ANYTIME BETWEEN 9 A.M. - 2:00 P.M. FROM MARCH 2TH - MARCH 4TH. READ MORE INFORMATION ABOUT OUR OPEN JOB INTERVIEWS BY CLICKING HERE.
PLEASE ALSO READ THESE IMPORTANT DETAILS ABOUT OUR JOB OPPORTUNITIES BELOW.
Our growing team is conducting interviews for our job opportunities for two weeks from Tuesday, February 23rd  – Thursday, March 4th. We are seeking to hire individuals for an opportunity to support our customers: Ford – Vehicle: F-150 Truck and FCA – Vehicle: Ram Truck. Depending on placement, you could receive an enhanced shift premium up to $2.00 in addition to base pay for six months.
All applicants must pass a pre-employment drug screen (hair collect) and background check.
JOB COMPETITIVE BENEFITS PACKAGE AND RETENTION BONUS OF $1,000!
We are also offering a competitive benefits package and a retention bonus of up to $1,000! We will be giving the retention bonus of $500 after 45 days, and another $500 after another 45 days.
THE SHIFTS FOR OUR JOB OPPORTUNITIES
Below are our available shifts. Please note you must be willing and available to work any of the shifts below.
Shift #1:
5 Days / 8 hrs.
Sunday – Thursday                  
9:30 pm – 5:30 am                    
Shift #2:
Monday - Friday
1:30 pm – 9:30 pm
Shift #3:
4 Days / 10 hrs.
Tuesday – Friday                      
 6:00 pm – 4:30 am              
Shift #4:
 Sunday & Monday / Friday & Saturday
6:00 pm – 4:30 am / 6:00 am – 4:30 pm
–––––
FOR YOUR INTERVIEW DAY
Interviews will be held at the UAW Region 1 – Pavilion, which is located to the side of the main building.
Each applicant's temperature will be taken upon entry. Applicants must wear a mask to interview. If you have a resume, please bring it to your interview.
On your interview day, please arrive 15 – 20 minutes prior to your interview time to complete an application.
–––––
If you're interested in applying to our current job opportunities, please sign up for an interview via Eventbrite. We look forward to meeting you and we thank you for your interest in Bridgewater Interiors!
CHOOSING YOUR JOB INTERVIEW SLOT
*****PLEASE SELECT ONLY *ONE* TIME SLOT FOR YOUR REGISTRATION DATE AS SHOWN AT THE BOTTOM OF THIS PAGE.*****
We will hold interviews from 9:00 a.m. to 2:30 p.m. Please click one of the dates below to register.
–––––
–––––
––––
––––
––––