Description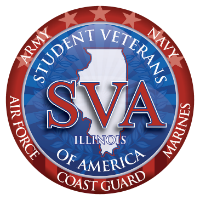 Bridges to Employment events assemble executives and senior managers from the public and private sectors to engage in a panel discussion to educate Veterans on the strengths they bring to their future careers. Following the panel, Veterans in attendance will be immersed in a networking forum, providing an opportunity for Veterans to engage with professional partners from numerous corporations to empower Veterans with networking skills and relationships necessary to succeed in the civilian sector.
At the inaugural 2014 events at Pritzker Military Museum and Library, over 200 student Veterans from 52 higher education institutions and 154 networking partners from 88 public and private institutions came together with the common goal of enhancing crucial networking skills for hard working and deserving student Veterans. Programming to date, we have supported over 8 events around the state of Illinois impacting 275 student Veterans from 76 higher education institutions and 271 networking partners from 145 public and private institutions.
Companies Attending:
Blue Shamrock Services
Cook County Sheriff's Department
Edward Hines Jr. VA Hospital
First American Bank
Gruntstyle
Harrah's Joliet Casino and Hotel
IL Dept. Central Management Services
Illinois Department of Children & Family Services
Illinois State Police
Invenergy LLC
Little Company of Mary Hospital
M&K Truck Centers
Mariano's
Marriott
Meemic Insurance
Midwest Business Consulting
New York Life
Pitney Bowes Inc
Saint Anthony Hospital
Sears Holdings
Sertoma Centre.org
SThree
TCF Bank
The Road Home Program at Rush University
WZC Networking
Zurich North America
STUDENT VETERAN TESTIMONIALS

"I felt this event was great; it was well put together and well worth the trip into the city."
"I didn't know what to expect as I have never been to an event like this but that was incredible, and I'm glad I was able to participate."
"This event far exceeded my expectation! The networking portion of the event indeed created an ideal opportunity for employers and veterans to meet and discuss employment-related issues."
"I found that the questions and answers were very well done. The panelist was from a variety of backgrounds, so the panel was not overwhelming in a sense that the situation fits all levels of employment."
"I usually don't expect much from these type of things, but was pleasantly surprised how relevant the panel discussion was."
NETWORKING PARTNERS TESTIMONIALS
"As a networking partner my expectation was to meet student veterans who may be interested and want to learn more about career opportunities in the federal government; assist the student veterans in exploring career opportunities they may have not otherwise considered, and answer their questions/concerns. Yes, my expectations were met. I was very satisfied with the high caliber of student veterans."
"My expectations were to find at least one solid fit for either an internship or a training program, which I did."
"First experience with this event. It was worthwhile."
Event Logistics
Students and Employers:
Parking:
Business/Professional Attire:
Go for a neat look. Avoid frayed, wrinkled or worn-out clothing.
Men: khakis, or dress slacks with any collared shirt. Collared shirts include polo, long or short sleeve "dress" shirts, such as Oxford button-downs without the tie.
Women: may wear the same clothes outlined above for men, along with skirts or nice pantsuits.
Blazers or sports coats always add a nice finishing touch for men or women. Acceptable casual shoes for men include loafers, clean deck shoes and several styles of oxfords. For women, the same types of shoes are fine along with neat flats and low pump
Neatness in appearance and grooming standards are the most important factors in dressing for success!
Who can I contact with any questions for #BTE2017 in Chicago?
Lee Cruz Gricelda Gonzalez
lcruz@sxu.edu ggonzalez@sxu.edu