Description
#BTE2016 in Springfield (1 March 2016): http://tinyurl.com/BTE2016Springfield
#BTE2016 in Romeoville (22 March 2016): You are here!
#BTE2016 in Chicago (30 March 2016): http://tinyurl.com/BTE2016Chicago

Prior to #BTE2016, join us on February 23rd for a 30 minute webinar where we discuss not only the "power" of networking, but tips on how to be successful: http://tinyurl.com/powerofnetworking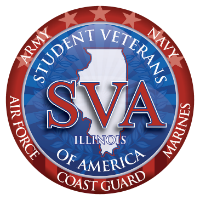 Bridges to Employment events assemble executives and senior managers from the public and private sectors to engage in a panel discussion to educate Veterans on the strengths they bring to their future careers. Following the panel, Veterans in attendance will be immersed in a networking forum, providing an opportunity for Veterans to engage with professional partners from numerous corporations to empower Veterans with networking skills and relationships necessary to succeed in the civilian sector.
At the inaugural 2014 events at Pritzker Military Museum and Library, over 200 student Veterans from 52 higher education institutions and 154 networking partners from 88 public and private institutions came together with the common goal of enhancing crucial networking skills for hard working and deserving student Veterans. Programming to date, we have supported over 8 events around the state of Illinois impacting 275 student Veterans from 76 higher education institutions and 271 networking partners from 145 public and private institutions.
Schools Attending BTE Romeoville
Northern Illinois University
DeVry University Keller Graduate School of Management
Lewis University
Elmhurst College
Elgin Community College
North Central College
Roosevelt University
College of DuPage
Waubonsee Community College
Rasmussen College
Benedictine University
Saint Xavier University
Majors Attending BTE Romeoville
Communications
MBA Human Resource Management
History
Business Administration
Unmanned Aircraft Systems
Marketing
Aviation Administration
Transportation Administration
Social Work
Air Traffic Control
Nursing
Aviation Maintenance Management
Criminal Justice
Computer Science
International Relations
Information Technology
Organizational Leadership & Development
Networking Partners Attending BTE Romeoville
Sears Holdings
Exelon Corporation
CDW
Robert R. McCormick Foundation
Plane Techs
CINTAS
EHI
United States Air Force
US Drug Enforcement
AAR Corp
National Able
SAP CV Inc
Enterprise Recovery Systems, Inc.
Forclosure Defense
NALCO
SVA-Illinois
Health and Disability Advocates/ Illinois Warrior to Warrior
Lewis Office of Veteran Affairs
Foresters Financial Services
Illinois Central Management Services
Enterprise Rent-A-Car
Grunt Style
Verizon Wireless
Dayton Freight Lines
Council for Adult & Experiential Learning
Accenture
Monster
SAP CV Inc
Black Diamond Charities/Chicagoland PMI
Financial Educational Service

STUDENT VETERAN TESTIMONIALS

"I felt this event was great, it was well put together and well worth the trip into the city."
"I didn't know what to expect as I have never been to an event like this but it was great and I'm glad I was able to participate."
"This event far exceeded my expectation! The networking portion of the event truly created an ideal opportunity for employers and veterans to meet and discuss employment-related issues."
"I found that the questions and answers were very well done. The panelist were from a variety of backgrounds so the panel was not overwhelming in a sense that the situation fit all levels of employment."
"I usually don't expect much from these type of things, but was pleasantly surprised how relevant the panel discussion was."
NETWORKING PARTNERS TESTIMONIALS
"As a networking partner my expectation was to meet student veterans who may be interested and/or want to learn more about career opportunities in the federal government; assist the student veterans in exploring career opportunities they may have not otherwise considered; and answer their questions/concerns. Yes, my expectations were met. I was very satisfied with the high caliber of student veterans."
"My expectations were to find at least one solid fit for either an internship or a training program, which I did."
"First experience with this event. It was worthwhile."
Event Logistics
Students and Employers:
Please be advised that we have limited parking here at Lewis University's St. Charles Borromeo Center. With that in mind, we have set aside 30+ parking spots located in lot SB-5 at St. Charles Borromeo Center. These parking slots are on a first come, first serve basis. Additional parking will be located in Lot C on Lewis University's Main Campus near a walking path that leads to St. Charles Borromeo Center. An e-mail with a campus map attached will sent three days prior to the event. Should there be any questions or concerns, please call Roman Ortega Jr. at 815-836-5339.
Business/Professional Attire:
Go for a neat look. Avoid frayed, wrinkled or worn-out clothing.
Men: khakis, or dress slacks with any type of collared shirt. Collared shirts include polo, long or short sleeve "dress" shirts, such as oxford button-downs without the tie.
Women: may wear the same clothes outlined above for men, along with skirts or nice pantsuits.
Blazers or sport coats always add a nice finishing touch for men or women. Acceptable casual shoes for men include loafers, clean deck shoes and several styles of oxfords. For women, the same types of shoes are fine along with neat flats and low pump
Neatness in appearance and grooming standards are the most important factors in dressing for success!
Who can I contact with any questions for #BTE2016 in Romeoville?
Roman Ortega Jr.
(815) 836-5339