Description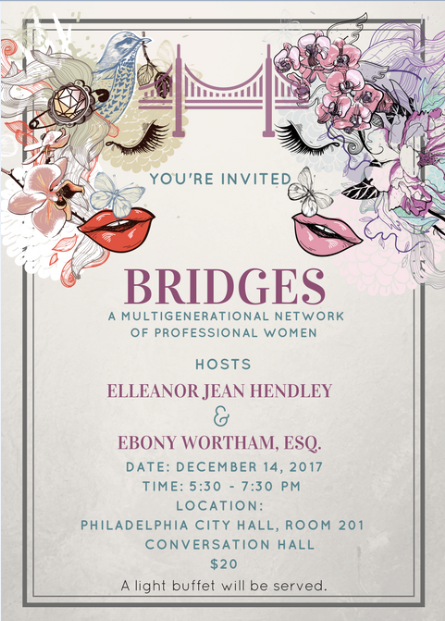 Hello Ladies!!

Thank you so much to those of you who attended our first Bridges networking event. What a blessing!! Cherri Gregg was transparent, funny and really inspiring. Dr. Ernestine Carter captivated the entire audience with her poise and wisdom.

Our next Bridges event will be on December 14, 2017 from 5:30-7:30pm at City Hall, Conversation Hall, Room 201. (You must enter at the northeast corner which is facing the Criminal Justice Center/The church and the Marriott Courtyard. Please try to arrive on time because after a certain hour entry may not be gained.) We are really excited to welcome guest speaker, Syreeta Washington, M.Ed, will lead us in a riveting discussion around sexual harassment - what it looks like and how you should handle it. So, bring your #metoo stories and get ready for an empowering evening.

This event is invitation only. If you would like to bring someone or invite someone please let us know so that we can extend an invitation to them. The cost is $20. Space is limited. So, please register quickly through this Eventbrite link.


Sincerely,
Elleanor Jean and Ebony