About this Event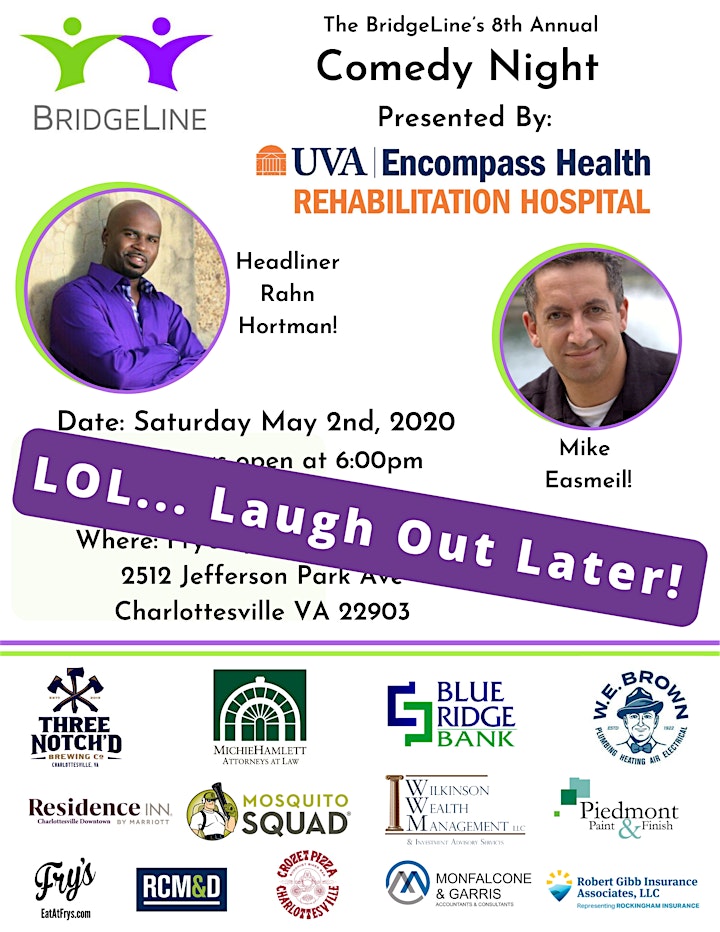 We regret to inform everyone that our 8th annual Comedy Night has been postponed due to concerns over the transmission of COVID-19. We feel that this is the best course of action to protect the people we serve, our staff, and the public. We will reschedule the event for a date in the fall. The exact date has yet to be decided. We hope everyone remains safe and follows the recommendations from the CDC.
For questions regarding the event or The BridgeLine in general you can contact our Advancement Manager, Michael Nafziger
Comedy Night is here once again! This time we're moving to a larger venue, Fry's Spring Beach Club!
Come for a fabulously fun and funny evening.
Happy Hour and socializing is planned but the timing of the evening is TBD
This is a fundraiser benefiting The BridgeLine, a Charlottesville nonprofit that supports adults with brain injuries. Come eat, laugh, and drink for a great cause.
If you have questions regarding the event please contact Michael Nafziger, 434-327-9010, mnafziger@thebridgeline.org
Why the change in location you ask? As our Comedy Night continues to grow each year with new friends and supporters, we have found the need for a larger space. We are so very thankful to Toan Nguyen at C'ville Coffee for hosting and supporting us for so many wonderful years.