About this Event
The BRIDGE12 Tea Talks is a monthly serial event that invites representatives from different corporations to have talks and share China-related business experiences. The objectives of these seminars are to help educate and raise awareness among the local communities interested in expanding to China.
Due to public health concerns related to COVID-19, BRIDGE12 is going virtual. Join our tea talks from anywhere in the world to experience our program for global innovators.
April Talk Theme:
How the COVID-19 impacts the manufacturing and supply chain in China and globally
Topics:
- How does the pandemic affect your business? In short-term and long-term
- How is the global manufacturing and supply chain responding to the pandemic?
- What has been done in response to crisis management?
- How are your clients affected, if any?
- Are there any business opportunities during a crisis like this?
- Any recommendation for start-up during this challenging time?
and more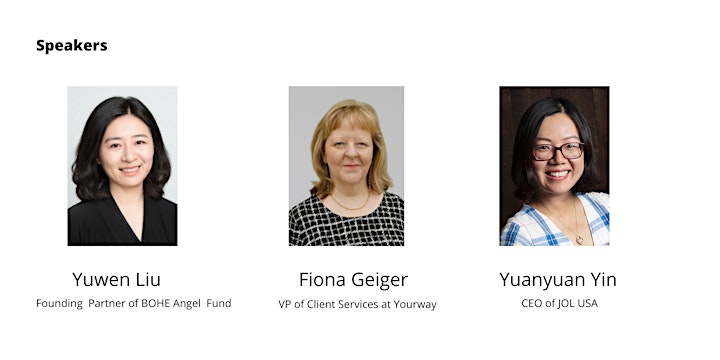 Yuwen Liu: Yuwen Liu is the Founding Partner of BOHE Angel Fund, a 200M RMB fund jointly invested by Wuxi Apptec, Hengrui, Simcere, TigerMed and BGI,etc. This is the first angel fund focusing on healthcare technology-driven start-ups in China, with Xiaodong Wang and Yigong Shi sitting on its scientific advisory board. It has invested into XinKangHe biological, Transcriptic, SmartNuclide, Athelas Therapeutics, CoolLing Biotech, and HighField BioPharmaceutical covering drug discovery, diagnostic and innovative service solutions. Before she sets up this fund, she was Chairwoman & CEO then executive director of Suzhou Industrial Park Biotech Development Co. Ltd. (BioBAY) for 9 years.
Fiona Geiger: Fiona Geiger Experienced professional with extensive expertise in project management, process definition, management, interactive response technology implementation, and all aspects of clinical supply chain management. She is the Vice President of Client Services at Yourway and has wide-ranging responsibility for aligning people and systems across the organization to keep projects moving forward and advance corporate objectives. Fiona also leads a number of strategic growth efforts to expand Yourway's customer base and increase capacity utilization.
Yuanyuan Yin: Yuanyuan Yin is a business development expert with experience from IBM, startups, and her family business in manufacturing and technology. She is currently the CEO of JOL USA where she manages sales and design strategies for manufacturers in China and Japan. She has been the co-founder of multiple startups and an investor in e-commerce and consumer product companies. Yuanyuan holds an MBA from Babson College and a Bachelor's Degree of Applied Science from the University of British Columbia.
Webinar Agenda
5 mins - Introduction
30 min - Pannel
15min - QA
Register today and we'll send you the webinar link to participate and recording after the webinar.
_______________________________________________________________________
What is BRIDGE12?

Co-operated by InnoBridge Boston (CUBIC Inc.) and Cambridge Innovation Center (CIC), BRIDGE12 is the newly launched community that provides a strong network, programing , and consulting services to unlock the path to China for promising US businesses.
About CUBIC Inc.

CUBIC is the ultimate platform for emerging and growing companies seeking to expand their market to China or establish a business presence in China through various services and programs fitting every clients' needs and stage. Our collective team has native market experience since the early 1990s allowing our business to grow quickly from Chengdu, Shanghai, Beijing, and internationally to North America and Europe accumulating over thousands of successful cases over the years.