IP strategies you should know to save cost and speed up your business during COVID-19 shared by top law firms in the US and China.
About this event
May Talk Theme:
Global IP strategies during pandemic
April 20th to 24th is the National IP publicity Week 2020 in China. And this year's theme is "Providing Stringent IP Protection and Creating a First-Class Business Environment". Following along, CUBIC will host Bridge12 webinar on May 20th jointly with Eagle IP and Wolf Greenfield moderated by ZSFab discussing news and IP strategies in the US and China.
Topics:
-Procedures for fast-track patent applications in the US
-Filing tips for maximum protection in China in a short time frame
-Compulsory licensing in worldwide pandemics
-Spending and IP strategies during pandemic
Featured: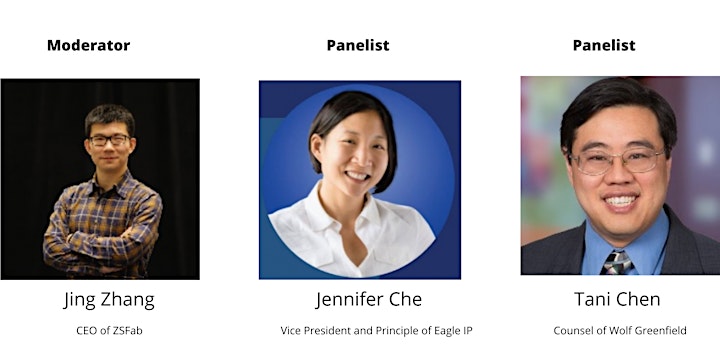 Jing Zhang (Moderator)
Jing Zhang is the founder of ZSFab, and is dedicated to serve customized health care with 3D printing technology. Focused on customer specific design and manufacturing of medical and healthcare products. Jing was awarded the "Provost Fellowship" for his PhD program in USC. The innovative technology Jing developed was awarded the top prize during NASA challenge campaign out of hundreds of competing teams. He got his master's and bachelor's degree in Tsinghua University.
Jennifer Che (Panelist)
Jennifer is a US patent attorney with a deep, multi-faceted understanding of the biopharmaceutical industry and cross-border (US-China) patent matters. Jennifer spent over a decade overseeing IP portfolios at Vertex Pharmaceuticals before becoming head of IP at Axcella (Flagship). At Eagle IP Jennifer helps international clients devise and execute smart patent strategies in Greater China as well as advises Asian clients on global portfolio strategies. Jennifer graduated from the Massachusetts Institute of Technology with a S.B. in chemistry and received her J.D. from Suffolk University Law School in Boston.
Tani Chen (Panelist)
Tani Chen counsels clients in patent prosecution in a wide variety of areas, including batteries and fuel cells, drug delivery, nanotechnology, chemical processes, bimolecular engineering, and analytical devices. He has a particular focus on start-ups and university work, and has helped companies develop strong IP protections based on their business goals and potential threats from competitors. Tani received a doctorate in chemical engineering from MIT in 1999, and spent 2 years as a post-doctoral research fellow at the Center for Engineering in Medicine at Harvard Medical School/Massachusetts General Hospital.
Webinar Agenda
5 mins - Introduction
30 min - Pannel
15min - QA
Register today and we'll send you the webinar link to participate and recording after the webinar.
About Bridge 12 Tea Talks
The BRIDGE12 Tea Talks is a monthly serial event that invites representatives from different corporations to have talks and share China-related business experiences. The objectives of these seminars are to help educate and raise awareness among the local communities interested in expanding to China.
Due to public health concerns related to COVID-19, BRIDGE12 is going virtual. Join our tea talks from anywhere in the world to experience our program for global innovators.
_______________________________________________________________________
What is BRIDGE12?

Co-operated by InnoBridge Boston (CUBIC Inc.) and Cambridge Innovation Center (CIC), BRIDGE12 is the newly launched community that provides a strong network, programing , and consulting services to unlock the path to China for promising US businesses.
About CUBIC Inc.

CUBIC is the ultimate platform for emerging and growing companies seeking to expand their market to China or establish a business presence in China through various services and programs fitting every clients' needs and stage. Our collective team has native market experience since the early 1990s allowing our business to grow quickly from Chengdu, Shanghai, Beijing, and internationally to North America and Europe accumulating over thousands of successful cases over the years.