Bridge to Haiti's Art Revival "Les Jacmeliens: Contemporary Haiti 2012"

Thursday, December 6, 2012 from 6:30 PM to 10:30 PM (EST)
Event Details
You're Invited! In celebration of Art Basel
The Haitian Heritage Museum presents 
"Les Jacmeliens: Contemporary Haiti 2012" 
Curated by Michele Frisch Director of MUPUNAH. 
Thursday Dec 6th at 6:30pm!
Haitian Heritage Museum has partnered with International curator Michele Frisch, the Director of MUPUNAH (Musee du Pantheon National Haiti), and the Consulate General of Haiti Miami to present this year's contemporary exhibition.
This exhibition debuts a group exhibit that will feature works by various Haitian artists from Haiti – Seide, Dodard, Mathieu and Mevs! 
Art lovers will be intrigued by the artists unique expressions that celebrate the shifting tides in Haiti, its Arts scene and it's impact in the Diaspora. This platform will bring the country's artistic players to the forefront of Miami's bustling arts movement.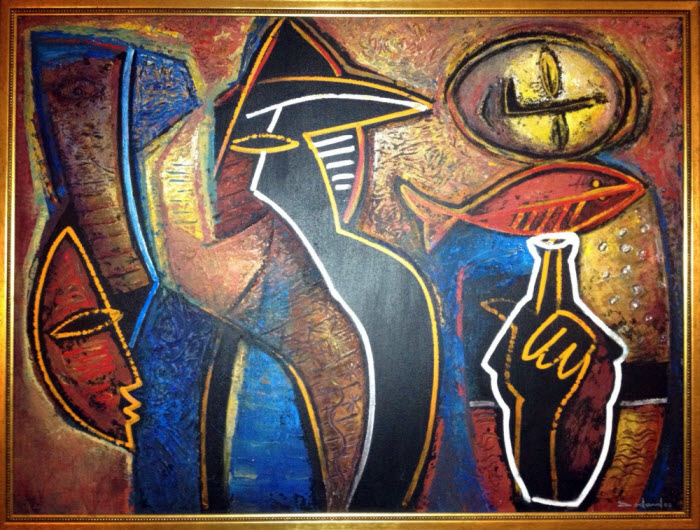 Artist Bios
Philippe Dodard
A world-renowned graphic artist and painter born in 1954 in Port-au-Prince, Phillippe Dodard previously worked as an advertising illustrator who's works have been exhibited all over Europe and the Americas. His very sophisticated and complex style is inspired by Pablo. Each unique piece tells a story involving themes of Haitian culture, spirituality, tradition and mythology.
Manuel Mathieu
Manuel Mathieu is a rising star in the Haitian Diaspora art scene. At the young age of 26, Manuel's Basquiat-esque imagery, colors and construction are intricate and mysterious leaving observers wondering what such apparently meaning-laden pictures might mean.Thus, at an early age, mirroring "Bad Art" painting, Manuel transformed his childhood bedroom into a "Sistine Chapel" of graffiti. Once having completed his high school education, he emigrated to Canada where he earned a Bachelor of Arts in Visual & Media Arts from Université du Québec à Montréal (UQAM).
Jean Adrien Seide
Jean Adrien Seide was born in Les Cayes, Haiti, on November 18, 1956. He began studying art with Jean-Claude Louis in 1973 and enrolled in the Academie des Beaux Arts in 1977. His celebrated work has been exhibited in many countries, including Venezuela, Spain, El Salvador, The United States, Canada, Haiti and France. Seide is very well-respected and widely regarded among fine art collectors around the world who appreciate his very simple and peaceful landscapes that represent indefinite fields and visual planes. Seide's works are typically large canvases which communicate a sense of calm and relaxation. Seide lives in Venezuela, painting and studying with Professor Efrain Lopez.
Ronald Mevs
Ronald Mevs was born in Port-au-Prince, Haiti, in 1945. Mevs is a highly versatile artist who is a master of many media, including printmaking and acrylic paintings on canvas. His papier mâché pieces reflect the long-lasting tradition of papier mâché in Jacmel, a small, sleepy colonial city known for its carnivals. Mevs creates evocative and nonrepresentational imagery and sculptures and often favors the use of earth tones suggesting their origins, and tends to be eccentric and eclectic.
Mario Benjamin 
Mario Benjamin was born in 1964 in Port-au-Prince, to a family of working professionals (his mother a pharmacist and his father an architect).Mario is one of Haiti' s leading contemporary artists. Using video and multi-media, painting, installation and other mixed media he addresses issues of identity, ethnicity and race. As an artist, he aims to challenge preconceived notions of the driving influences and interests of Haitian artists. Benjamin was self taught but frequented museums in New York, Washington, D.C. and abroad exposing him to international contemporary trends in art. In 1984 he participated in Festival Arts d' Haiti and since then has represented Haiti in numerous prestigious biennials including, Johannesburg, Havana, São Paulo and Venice in 2001. He lives and works in Haiti.

When & Where

The Haitian Heritage Museum
4141 Northeast 2nd Avenue
#105c
Miami, FL 33137


Thursday, December 6, 2012 from 6:30 PM to 10:30 PM (EST)
Add to my calendar
Organizer
MC² is Miami Caribbean Code, an empowering ingenuity committed to fostering the bridge between Miami and the Caribbean region. MC²'s approach is to provide resources and education to empower today's tech innovators in the Miami-Caribbean community and Caribbean region. Our vision is for entrepreneurs and innovators to achieve limitless technological advancements for future business success.
MC² strives to inspire the Caribbean youth, budding entrepreneurs, innovators and thought leaders both in Miami and in the Caribbean region. We believe they can all help change the world, one entrepreneurial vision and innovation at a time.