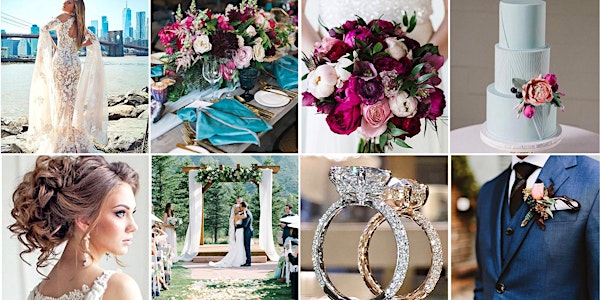 Bridal Expo Chicago, January 29th, Georgios Banquets, Orland Park, 11a-4p
RSVP now for 4 Free Ticket Passes! This offer won't last long, so get your tickets today! $5,000 in cash/prizes Awarded During Fashion Show!
When and where
Location
Georgios Banquets 8800 W. 159th Street Orland Park, IL 60462
About this event
Get 4 FREE tickets to our luxury bridal show at Georgios Banquets-Orland Park on Sunday, January 29, 2023 from 11am to 4pm. A fabulous day out with your besties & bridesmaids.
Show Times: We ask that you choose any arrival time convenient to you. You can stay as long as you'd like. Staggered arrivals allow a less crowded environment.
11:00am to Noon (Most Crowded Arrival Time)
Noon to 1:00pm (Less Crowded Arrival Time)
1:00pm to 2pm (Even Less Crowded Arrival Time)
2:00pm to 3:00pm (Even Less Crowded and fashion show starts at 3pm)
Hours: Ticketed show times throughout this event are in hour increments for arrival times to allow a less crowded environment.
If you are running late, don't worry; we will still allow you to enter! Our arrival time slots allows each bridal party ample time to speak with more than 55 vendors. It also creates a less crowded environment which is more relaxing and fun.
And don't miss our fashion show which starts at 3pm.
Most attendees likely spend 1-3 hours at the event or however long they want.
About Bridal Expo Chicago: We have been the number one luxury bridal show and expo for more than 28 years! Attend our show and experience everything new and trending in weddings. Shop in style, and find amazing discounts/deals from participating wedding professionals.
Free Parking. Free Swag Bag. Tickets are normally $25 at the door.
How to Order & RSVP:
1. Get up to 4 Tickets at No Charge to attend the event. Save $100 instantly.
2. Arrive at least 10 minutes before your show time if possible.
3. Check your Junk or Spam Folder for Ticket Confirmation.
4. Please show a copy of your ticket order at the door for entry at the time specified. If you are running late, we will still allow you to enter the show whenever you arrive.