About this Event
BRICK DIVE-IN COMEDY NIGHT!
Join us for a hilarious COVID safe night of laughter!
Enjoy the show from the comfort of your own car!
With our FM transmitter, you can tune in through your car radio!
COME LAUGH WITH US!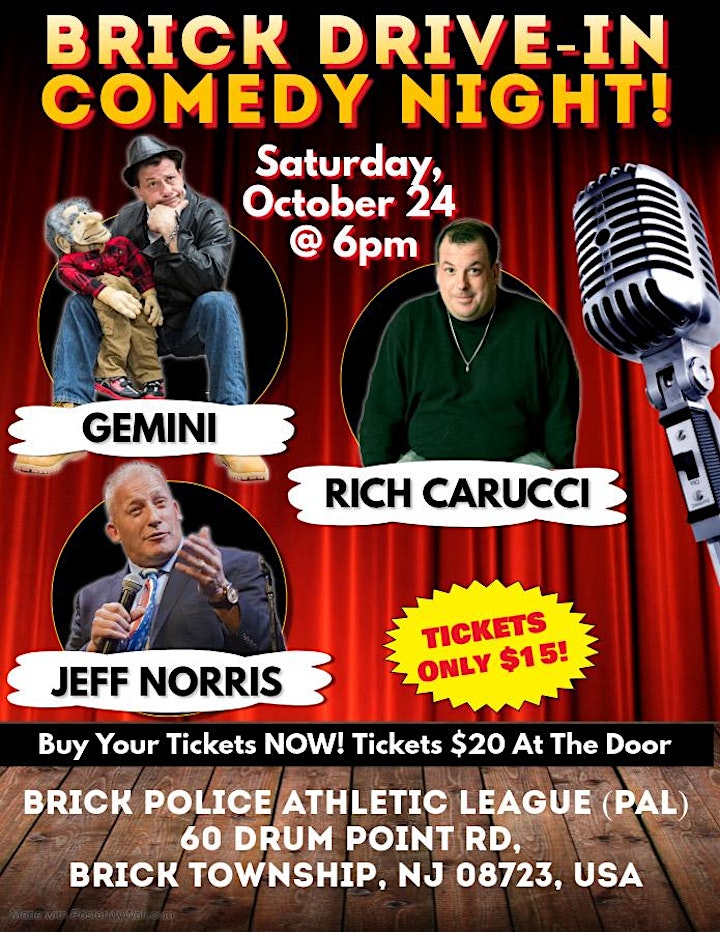 STARRING:
GEMINI: Hilarious. Unique. Mystifying. This one-man-wonder will blow your mind. Gemini is a top headlining comedian from the Borgata Casino, an award-winning ventriloquist, and one of the best magicians in the tri-state area! He has performed on Fox5, NBC, Showtime, and at hundreds of comedy clubs, casinos, resorts, and theaters across the country! He is a top headliner at The Borgata Casino, Dangerfield's, The Parx Casino, and Caroline's on Broadway! He combines comedy, magic, ventriloquism, live animals, audience participation & great fun into one astonishing & hilarious show!
JEFF NORRIS: Jeff Norris is an energetic whirlwind of comedy. He is a favorite in both Atlantic City and Vegas. He has also most recently partnered with Royal Caribbean Cruise Lines. Over the years, Jeff has appeared on numerous TV and film roles including HBO's Boardwalk Empire and OZ, Good Morning America, My Super-Ex Girlfriend, and Not Fade Away.
RICH CARUCCI: The Steamroller of Comedy! Rich is a second-generation comedian who's grandfather was a vaudeville song/dance & comedy act. Rich was a childhood actor who appeared on several Chef Boyardee commercials, off-Broadway plays, and The 1972 Ed Sullivan Easter Special,'Clowning Around" with singer Tiny Tim, actress Lucie Arnaz, and comedian Chuck McCann. Since 2001 Rich has been performing Stand Up all across the Country. He is also a regular on the New York City Comedy Circuit. His amazing crowd work and hysterical take on life and current events make him a favorite and a must-see act.