Multiple Dates
Brick City Comedy Review at All Points West Distillery, Halloween, 1 Table
Outdoor table for up to 4 people for Brick City Comedy. Tickets come with seating, 4 cocktails, and a 375ml bottle of vodka or gin!
About this Event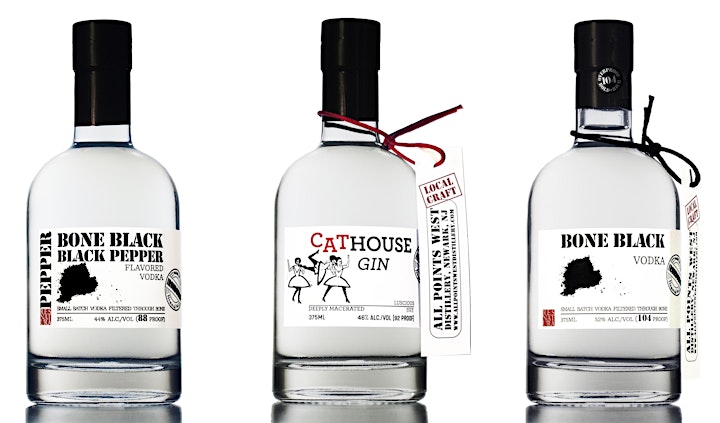 7 PM Show (seating at 6:30)
Feature- Dave Lester
Dave is a standup comedian based in Newark, NJ. In addition to writing and producing he's appeared on TVONE's "Bill Bellamy's Who's Got Jokes" and can be heard on SiriusXM. A Long Island University graduate with a degree in education, this father of five enjoys people watching, playing softball, coaching Little League, independent movies with average looking actors, and Vodka Penne. Dave has about 2 decades of comedy experience under his belt and is a talent to keep your eye out for.
Headliner- Meghan Hanley
Meghan is a Brooklyn based, nationally touring stand-up comedian. She has appeared on AXSTV's "Gotham Comedy Live," The MSG Network, DreamsTv, as well as Fox's "Laughs," and "Red Eye." Hanley, know for her quick wit and upbeat persona, has been featured in several festivals, including Boston, Austin's Out of Bounds, Atlanta's Laughing Skull and The Women in Comedy Festival. Last March she finished her first tour with Armed Forces Entertainment, performing for the Troops in Kosovo, Germany, The Netherlands, Belgium and England, and will be leading her first tour once Quarantine is over. As a writer/presenter, Meghan co-wrote and co-hosted the program for Fordham University'sInaugural Athletics Gala, as well as Advertising Week NY's"The Future is Female Awards." Additionally, Meghan smiles a lot, which some people find suspicious, but mostly endearing.
9 PM Show (seating at 8:30)
Feature- Christian Polanco
A native of Brooklyn New York and the son of immigrants from the Dominican Republic, Christian discovered at an early age that being funny was a way to get people to like you and "not want to beat you up."Outside of being a stand-up comedian, Christian also does a fair amount of acting, writing and improv. He is currently the head writer for an online talk show called "Metro Section," where he performs on the show as well. Christian has also hosted a popular podcast called "Offstage w/ Christian Polanco", where he interviewed other comedians about how they handled dating and relationships.
Headliner- Charles McBee
Charles McBee has made three national stand-up comedy appearances on Gotham Comedy Live and was a favorite on two FOX's "Laughs" and "Punchlines." Charles has performed at the New York Comedy Festival and stars in his web series, It's a Chucked up Life which he wrote, directed and produced. Charles has written for several tv shows including MTV's "WIld N Out with Nick Cannon," MTV's "Fear Factor," "Uncommon Sense Live with Charlamagne Tha God" and VH1's 'Hip Hop Honors." Charles' comedy is a mix of witty humor with a positive message. He creates laughter by combining personal stories with social commentary.
Both shows hosted by the Brick City Comedy Revue's Justin Williams and DJ Manny Faces