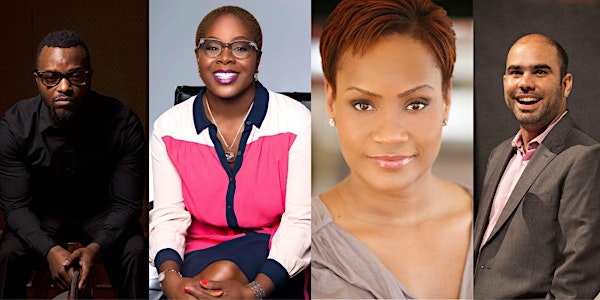 BRIC Media Talks: Perfect Your Pitch Panel
When and where
Location
BRIC 647 Fulton Street Brooklyn, NY 11217
Description
Perfect Your Pitch Panel, Brooklyn Media Maker Weekend
Friday, October 20, 2017
Do you have an interesting idea for a television show but are having difficulty coming up with a way to sell it? In this workshop, you'll learn valuable techniques from BRIC TV producers for preparing for a television pitch. These include developing a hook, considering the audience, coming up with a trailer, as well as common mistakes and pitfalls that you might run into when brainstorming your pitch.

MEET THE MODERATOR:

KECIA ÉLAN COLE
Kecia Élan Cole is an Emmy-nominated, and New York Press Club Award winning TV Producer and Editor. She received a Bachelor of Science degree in journalism from Kent State University, where she founded and edited an on-campus magazine. Kecia's editing work has been featured in music videos by Talib Kweli and Fat Man Scoop, and a short film by noted filmmakers Malik Sayeed and Arthur Jafa. She has also freelanced with ABC's Good Morning America Now and BET. She is currently a Senior Producer and Editor for BRIC TV where she is a Series Producer on: B-Side, Brooklyn Made, and Brooklyn Is Masquerading As The World with Terence Nance, and is an Executive Producer on two scripted series: BK3K and the upcoming Sole Kings with Michael "Boogie" Pinckney.

MEET THE PANELISTS:

MICHAEL PINCKNEY
Michael has over 10 years of experience as an assistant director on films and television series such as "Inside Man" , "Top Five", "Broad City", "The 25th Hour", "7th Heaven", "The Best Man", "Law & Order", and the academy award nominated film "Precious". Michael made his feature film directorial debut with "You're Nobody til somebody kills you", a gritty crime thriller Executive Produced by Spike Lee and distributed by Lionsgate. He won an award for Excellence in Media from The Black Men's Film Conference for his HIV film "The Candy Store" and toured the film festival circuit with films from his short film collection. He's directed a variety of digital series from "SoleKings", "Black Actress" to "The Colors of Love" in addition to Producing the award winning digital series "For Colored Boys - Redemption" starring Tim Reid.

ROBYN GREENE ARRINGTON
Robyn Greene Arrington is an award-winning creative executive with varied experience in the media industry. As VP of Programming & Production at TV One, she is an integral part of the team that shapes the network's creative vision which includes scripted, digital, factual and reality content. Robyn is currently the network's Executive in Charge of Production on "Bobbi Kristina," an innovative biopic; and "Two Sides of the Truth," an investigative crime & justice series that Viola Davis will narrate and executive produce.

AZIZ ISHAM
Aziz Isham is a filmmaker, publisher and digital media specialist, and the co-founder of ArcadeSunshine Media, reKiosk and GoodFight Media. He has produced and developed documentary series for History, Discovery Channel, A&E, National Geographic along with several independent and feature projects. He is currently the Executive Producer of BRIC TV, a non-profit cable and news channel focusing on stories on and about Brooklyn. His essays have been published in The Huffington Post and Digital Book World, and he has been a featured speaker at NYU, DocSummit, MediaBistro, and DC Week and was a faculty member at CUNY Publishing Institute. He lives and works in Brooklyn, NY.

SQUEAKY MOORE
"One woman, many faces, one creator, many talents," is how Squeaky Moore likes to describe herself. Regarded as the pitch guru for independent content creators. Squeaky is a mompreneur, content creator, producer, director, writer, and actress. She freelances as a development and pitching consultant and strategist. Squeaky's mission is to enlighten, uplift, and inspire. Her career path—one designed to artistically address socially conscious issues, invoke discussion for the greater good, and to teach and inspire — lies at the very core of who she is, and is continually reflected in her work. Some of Moore's recent directing and producing credits include, "64," a project on father absent homes that she executive produced and assist directed, "Father's Day?", also produced by Squeaky that addresses the effects of absentee fathers; which debuted on the launch of Magic Johnson's, Aspire TV Network. The Positive Controversy," a show in which she developed and is the show-runner, and her latest film project, "Face of Darkness - Journey to Healing," a documentary film that explores depression and suicide in the African American communities.


Preparing You For Success!
We're here to help you learn, create, and elevate your film and TV game, The Perfect Your Pitch Panel (part of the Brooklyn Media Maker Weekend) is specially designed to help prepare you for our BRIC TV Open Pitch on Thursday, November 16, 2017.
Perfect Your Pitch Worksheet!
We want you to succeed and we know that you want to succeed but great success comes with great preparation. Here are some great resources to ensure that you walk into your next pitch prepared and ready for success.
CLICK HERE!
---

Learn More About The Brooklyn Media Maker Weekend
The Perfect Your Pitch Workshop is part of the Brooklyn Media Maker Weekend. The event will present a collection of workshops and lectures to introduce, inform, and enhance the public's knowledge of using television-related technology. The conference will also help to build awareness about your New York Emmy-nominated Brooklyn Free Speech television channels and resources available at The Media Center— including a media education program that teaches television production, documentary filmmaking, radio podcasting, marketing, and distributing.

Including Community Media Day, the three-day Brooklyn Media Maker Weekend event will celebrate all things community media, accessible media, and free speech.
Celebrate Community Media Day
Friday, October 20, 2017
Community Media Day is an annual celebration of voices that brings awareness to the importance of free speech and accessible media for all individuals to have their voices heard. Learn how you can celebrate the 2nd Annual Community Media Day here!