About this Event
BRIC JazzFest culminates in a three-night, three-stage live music marathon with overlapping sets by global legends, groundbreaking artists, and exciting newcomers to jazz. With your BRIC JazzFest Marathon tickets, you can move freely among performances and catch as many artists as you like each night, as performances take place in the intimate jazz club-like Artist Studio, the expansive Stoop overlooking the Gallery, and the state-of-the-art Ballroom—all within BRIC House.
BRIC JazzFest Marathon Night 2 will feature Georgia Anne Muldrow, Amina Claudine Myers, Kneebody, Joel Ross' Good Vibes, María Grand, Tosin Aribisala Trio, and QNA. For more information on the artists performing, click here. The set times for the evening are included below.
Click here to purchase 3-Day Passes for all three nights of the BRIC JazzFest Marathon!
All BRIC JazzFest Marathon tickets are General Admission: STANDING*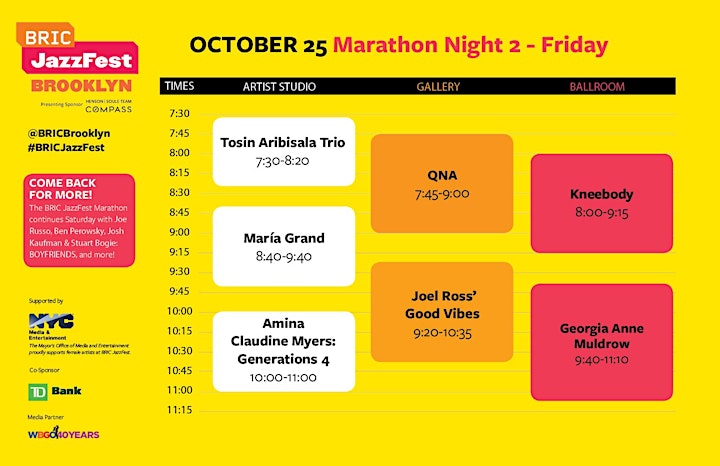 Performers
Date and Time
Location