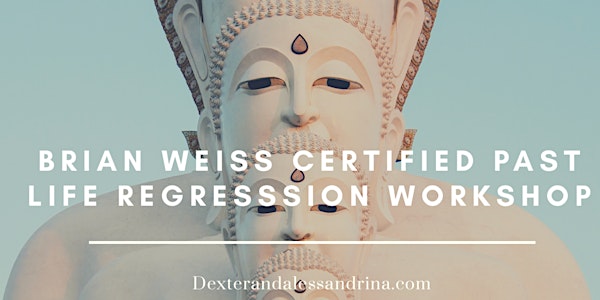 BRIAN WEISS CERTIFIED HYPNOSIS AND PAST LIFE REGRESSION
When and where
Location
Dexter and Alessandrina 3552 North East 167th St North Miami Beach, FL 33160
Refund Policy
Refunds up to 7 days before event
Description
Join us to uncover through hypnosis and past life regression facilitated by Dexter and Alessandrina, spiritual counselors and healers, as taught by world-renowned Dr. Brian Weiss who you've been, and ways in which your past lives are still influencing you to this day.
In this hands-on and highly interactive workshop, we'll uncover:
* how to access your past lives through hypnosis
* how to understand the significance of your past lives in your current life and life results
* how to access deep-seated and hidden fears, beliefs, and trauma from past lives that continue to influence, and maybe even limit, you in your present life incarnation
* how to release and transcend any limitations and unresolved pain, phobia, and trauma from past lives
* how to make the most out of this lifetime through learning and integrating the lessons from your past lives
RSVP for this exclusive event lead by Dexter and Alessandrina Dorer, Dr. Brian Weiss certified Past Life Regression facilitators. Space and parking are limited due to the intimate venue.
For questions or special requests, call or text us at 786 308 9552, or email us at alessandrina@dexterandalessandrina.com
To find out more about us, visit: www.dexterandalessandrina.com or www.theepicself.com
If you can't attend this workshop, consider joining the next one planned for Saturday, September 22nd, 2018 from 2-4.30pm. RSVP for this event as this is a very intimate venue and space and parking are limited.
https://www.eventbrite.com/e/dr-brian-weiss-certified-hypnosis-and-past-life-regression-workshop-tickets-47215625206
Watch this video testimonial on the practical benefits of past life regression by one of our clients, Carolina, owner at SobeLift, Miami Beach, FL
'Life changing! Every time, you come a little closer to your true self... Amazing! Everybody should try it!'

'...The past life regression sessions are amazing, completely different than what I expected and thought they were going to be. Life changing, for sure. I think we don't realize how much we hang on to things of our past that we think mean nothing, but when they come to light, they mean everything. And they explain a lot of why we do things in our lives continuously. So for me, just doing two sessions has been amazing, and I can't wait to do more. And that's how I feel, every week, I get excited to do another one because every week is different and every time you do it is different, and you come a little closer to your true self and you're able to let go and experience, and it's amazing. And definitely, definitely, everybody should try it! ' - Carolina, Miami Beach, FL