Location
Multiple Locations see flyer
Center for Spiritual Living, Palm Desert
45-630 Portola Ave.
Palm Desert, Ca 92260
Description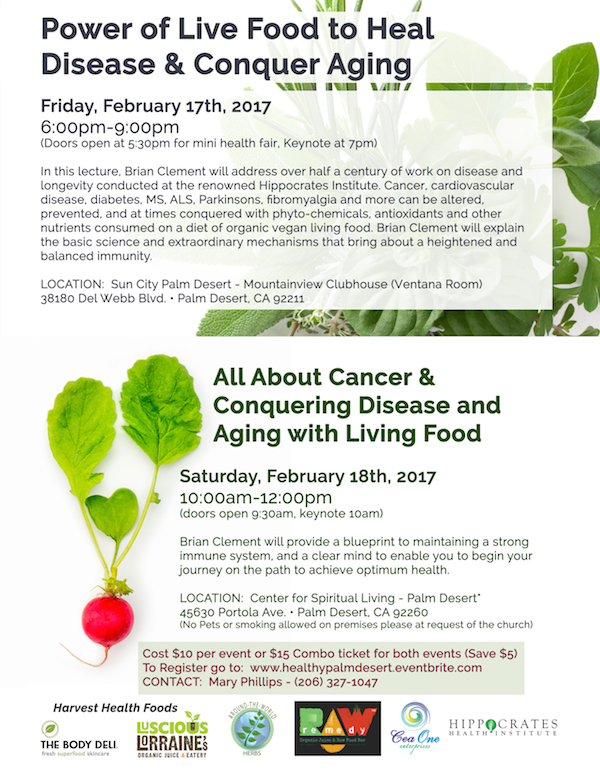 PLEASE JOIN US FOR TWO AMAZING EVENTS!
LOCATION: Sun City Palm Desert - Mountainview Clubhouse (Ventana Room)
TOPIC: Power of Live Food to Heal Disease & Conquer Aging
In this lecture, Brian Clement will address over half a century of work on disease and longevity conducted at the renowned Hippocrates Institute. Cancer, cardiovascular disease, diabetes, MS, ALS, Parkinsons, fibromyalgia and more can be altered, prevented, and at times conquered with phyto-chemicals, antioxidants and other nutrients consumed on a diet of organic vegan living food. Brian Clement will explain the basic science and extraordinary mechanisms that bring about a heightened and balanced immunity.

DATE: Saturday, February 18th, 2017
TIME: 10:00am-12:00pm (doors open 9:30am, keynote 10am)
LOCATION: Center for Spiritual Living - Palm Desert*
(* No Pets or smoking allowed on premises please at request of the church)
TOPIC: All about Cancer & Conquering Disease and Aging with Living FoodBrian Clement will provide a blueprint to maintaining a strong immune system, and a clear mind to enable you to begin your journey on the path to achieve optimum health.