About this event
THE OSTERHOUT FREE LIBRARY IS EXCITED TO ANNOUNCE THE 12TH ANNUAL BREWSTERHOUT ROOFTOP PARTY! While we were unable to hold the event last year due to the pandemic, we are thrilled to be back! The Brewsterhout Rooftop Party is an exciting and unique event atop the Intermodel Center in Wilkes-Barre that features food from local restaurants, along with beer, wine and entertainment! After a year off from this event, we are very much looking forward to this great celebration of our library and local businesses!
Friday, October 8, 2021 | 5-8PM
$25 in advance | $30 at the door
Must be 21+ to attend. Held rain or shine.
Tickets are available to purchase (no fees) at the Osterhout Free Library, 71 S. Franklin St, Wilkes-Barre.
Want to highlight your business and products at the event? Interested in coming on board as a Sponsor? Click here to learn more or contact Amber Loomis at aloomis@luzernelibraries.org.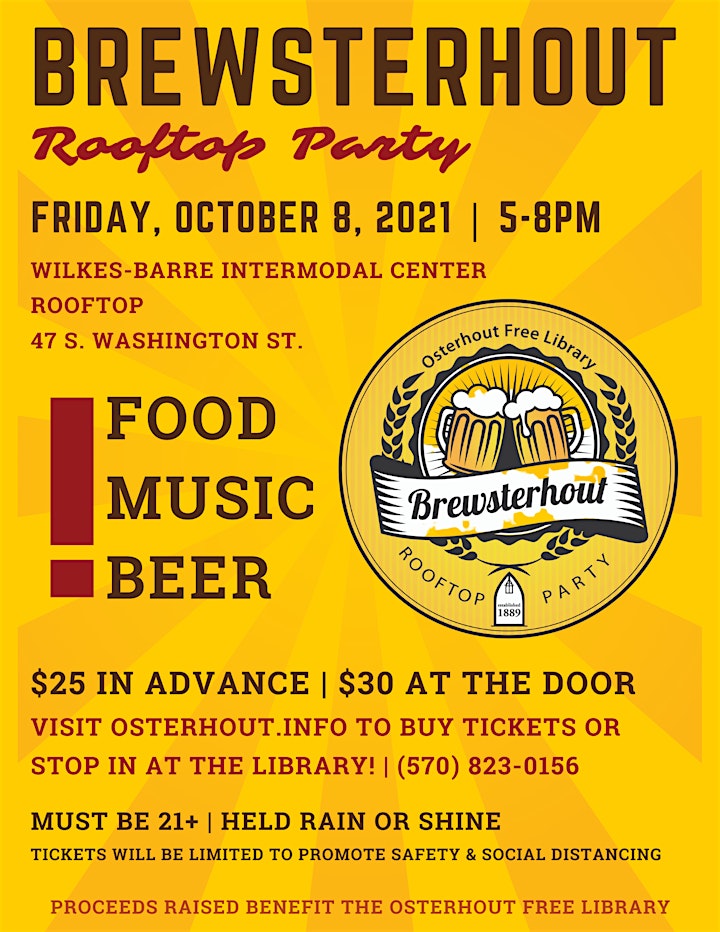 Organizer of Brewsterhout Rooftop Party
Where would many of us be without the information we find in our public libraries? When you show support for the Osterhout Free Library, you are not just supporting the library, you are giving back to the community. Many Luzerne County residents utilize the library's programs to continue their education after their school-age years, to conduct research and study for post-secondary school exams, and to immerse their children and grandchildren into the wonders of reading. The Osterhout Free Library is a dynamic, versatile community center. In 2019, we welcomed over 125,000 visitors. More than half of young adults and seniors living in poverty in Luzerne County came to the Osterhout to access the Internet and participate in life enriching programs. They used this access among other purposes to find work, apply to college, secure benefits, learn new skills, and file for unemployment. To many, the Osterhout is a lifeline.