Description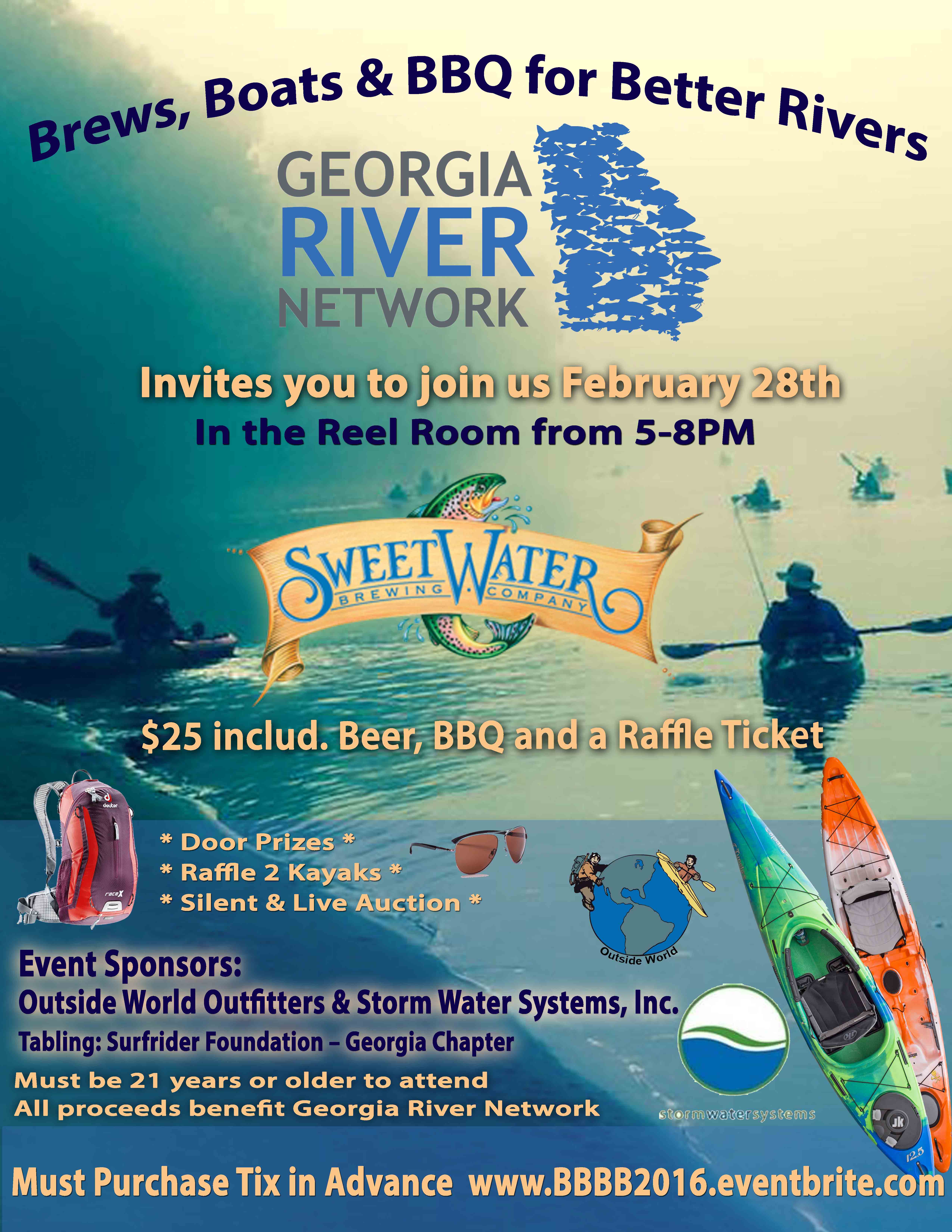 Brews, Boats & BBQ for Better Rivers 2016
Join Georgia River Network for the 3rd Annual 'Brews, Boats and BBQ for Better Rivers' on February 28, 2016 at SweetWater Brewery in Atlanta, GA. This kickoff paddle party and GRN fundraiser is a pre-season gathering of paddlers and river lovers from all over Georgia at SweetWater Brewery. We invite paddlers of all skill levels and disciplines, as well as those who have never paddled but are interested in this wonderful sport to come meet GRN staff members and learn about our mission and upcoming events. This is also a great opportunity to meet new paddling friends and renew old friendships!

Representatives from several paddling groups across Georgia will be there. There will also be silent and live auctions including a Deuter Rece X backpack, Optic Nerve Arsenal Sunglasses, Werner Bandit Canoe Paddle, Tickets to the Atlanta Botanical Garden, an Altamaha Coastal Tours Paddling Trip for Two, Jewelry, Art and much more…
PLUS a chance to win 2 new Jackson recreational kayaks (2016 Cruise 10 & 2016 Tupelo) - So be sure to stock up on raffle tickets which can be purchased when you buy your event ticket!

Many thanks to event sponsors Outside World Outfitters, Oglethorpe Power, and Storm Water Systems Inc. for their generous support!
Surfrider Foundation - Georgia Chapter, Georgia Canoe Association, and Kayak Classes Georgia will be tabling. Also, author Suzanne Welander will be signing copies of the newly released 2nd edition of Canoeing & Kayaking Georgia.
Tickets are $25 and include: Complimentary SweetWater Brewery Tours & Tastings, BBQ, and a raffle ticket for door prizes and a camping package valued at over $900. Raffle tickets for the kayaks can be purchased within registration of the event or at the event. Kayak raffle participants do not have to be present to win.
Must purchase event tickets in advance at http://www.BBBB2016.eventbrite.com
(Please note that all attendees must be 21 years of age or older as of February 28, 2016.)
For those who:
* Will not be attending the event but would like to purchase kayak raffle tickets
* Have already purchased raffle tickets when registering for this event
Kayak raffle tickets will also being sold at the event.