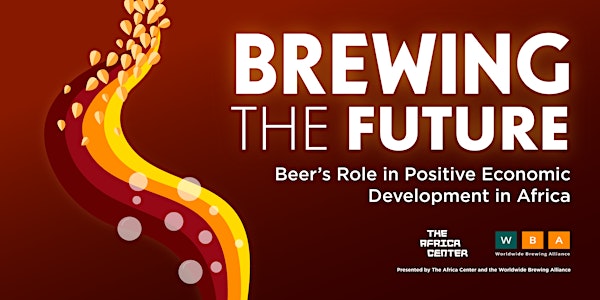 Brewing the Future: Beer's Role in Positive Economic Development in Africa
Join us in celebrating African beer production and its ability to drive growth, empower people, and create a legacy of change across Africa.
When and where
Location
The Africa Center 1280 5th Avenue New York, NY 10029
About this event
On the sidelines of the 77th UN General Assembly, Brewing the Future will bring together a group of stakeholders focused on the future of Africa and committed to accelerating its growth through policy, investment, and development.
Unlike so much of our modern economy, beer remains an intensely local industry. As a result, brewing delivers outsized economic benefits to local communities through a value chain that stretches from farmers to truckers, mom-and-pop retailers, restaurants, bars, and other hospitality locations. This is particularly evident in markets in Africa, where the beer industry looks to drive growth, empower people and communities, and create a legacy of change across the entire continent.
The recent report Beer's Global Economic Footprint, authored by Oxford Economics on behalf of the Worldwide Brewing Alliance (WBA), shows beer's massive contribution to global GDP, jobs, and taxes. Beer supported $555 billion in GDP in 2019 – an average of 0.8% GDP per country. The industry also supported more than 23 million jobs and generated $262 billion in tax revenues for governments. That economic contribution is even higher – by nearly 2x - than the global average in lower-income countries. This event will dive deeper into the local relationships and supply chains that power that impact and highlight opportunities for the brewing industry and its partners to drive development.
Program
The program will be opened with short remarks by CEOs of the event co-sponsors, Uzodinma Iweala (The Africa Center) and Justin Kissinger (Worldwide Brewing Alliance), followed by a brewer's perspective provided by John Blood, AB InBev's Chief Legal & Corporate Affairs Officer and Company Secretary.
Featured addresses by the Honourable Minister of Commerce, Industry, and Trade of the Kingdom of Eswatini, Senator Manqoba Khumalo and the Honourable Minister for Industry, Trade and Investment of Nigeria, Otunba Niyi Adebayo.
Further program details to be announced.
African Beer Tastings
Follow the "Seed to Sip" journey of the beer in your glass as we bring to life the story of the economic impact of beer in Africa. While you sample tastings of local beer and food, you will learn the value beer creates throughout its entire supply chain and its positive local impact. Featuring beers from Ghana, Mozambique, Nigeria, South Africa, Tanzania, Uganda, Zambia, and a special collaboration brew by Brooklyn Breweries x Yolélé, alongside a paired tasting menu curated by The Africa Center partner Teranga.
About The Africa Center
The Africa Center is a nonprofit, nonpartisan, multidisciplinary institution that provides a gateway for engagement with contemporary Africa. Serving as the hub for the exchange of ideas related to the continent, and in the spirit of a collaboration with individuals and institutions with shared values, The Africa Center inspires enthusiasm, advances thought, and empowers action around Africa's global impact on our collective futures.
About the Worldwide Brewing Alliance
The Worldwide Brewing Alliance (WBA) involves brewers and brewing trade associations from around the world. The objective of the WBA is to share knowledge and best practice amongst brewers and other concerned stakeholders and to act as a global, united voice on the integrity of beer and the social responsibility of brewers to a variety of audiences, including international organizations.