Description
BREWERS, VINTNERS AND DISTILLERS FESTIVAL, 3 LEARNING TRACKS
LEARN, TASTE AND BE MERRY
The Brewers, Vintners and Distillers Festival is a premier event where master craft beer makers, homebrewers,distilling greats, and our distinguished guests gather to share stories, craft beer, and spirits in a beautiful 3-story indoor space, downtown Salt Lake City, UT. Experience tastings from wineries, breweries, distilleries, and enjoy artisans locally-made products at this ultimate craft beer, whiskey and spirits and wine experience. All craft beer, wine and spirits included with ticket price!
Whether you are a full-fledged homebrewing expert or just trying to understand the difference between a rye whiskey and bourbon, you will find more than one workshop to expand your palate at the Brewers, Vintners and Distillers Festival. There is something for everyone – from mead and wine tastings, seminars and burlesque performances, to conversations with craft beer and homebrewing influencers, there are tastes and enticements at every turn. Your entry includes a commemorative glass, access to workshops, tastings and live entertainment, including burlesque performances.

2019 PARTICIPATING BREWERIES, WINERIES and DISTILLERS
Salt Fire Brewing, Level Crossing, Salt City Brew Supply, High West Distillery, Dented Brick Distillery, Hammer Spring Distillers, Bewilder Brewing, Salt City Brew Supply, HolyStone Distilling, Shades Brewing, Cerveza Zólupez Beer Company, Kiitos Brewing, Bohemian, Hopkins Brewery, Roha, Culmination Brewing, Beehive Cigars, Utah Wine Academy, Utah Brew Fest, Boozeboutique. Our list of participants continues to grow leading up to the event. Check back often!

BAD FEST BENEFICIARY
The Brewers, Vintners and Distillers Fest is proud to support the Crossroads Urban Center. Crossroads Urban Center is a nonprofit, grassroots organization that assists and organizes Utahns with low incomes, those with disabilities, and people of color to meet basic survival needs and to address essential issues affecting quality of life. Please bring a donation and receive a ticket for an opportunity to part with a gift from one of our amazing sponsors! High West Distillery gift cards, gift baskets...
Learning Tracks
Maker | Taster | Seller
Given from the Classrooms 2nd Floor. First come first serve.
6:00 - 6:40 Seller Learning Track: Whiskey Tastings with High West Distillery.
Drink some Whiskey and be taken on an incredible sensory journey with the High West Team! This will be a perfect workshop for you if you have always wondered what the difference is between a Bourbon, Rye or Double Rye whiskey! High West Distillery
6:15-7:00 Maker Learning Track: How To Create Beer Recipes from Your Favorite Flavors with Bitches and Brews
Anyone who ever thought about brewing beer started with the same basic thought- I can brew my own beer however I want it! Then the mind runs wild with ideas like caramel macchiato blonde ales, peanut butter chocolate milk stout, barrel aged porter, and cloudy New England IPA's with that characteristic pillowy mouthfeel...the possibilities are endless! But how do you get these flavors in your beer?? We've mapped out this workshop with that thought in mind, as well as our own thirst for diversity in the beer industry and community. We will show you how to infuse custom flavors into beer, give you sensory experiences with specialty ingredients from our partners, and provide insight into creating recipes for brewing beers inspired by your favorite food and drinks!
This is a fully immersive experience with displays and handouts of products we'll use in the workshop, a worksheet listing all the collaborators and their offerings, how these ingredients can be used in beer along with some boozy tasting and judging so you know how to pair flavors for your own creations, PLUS a swag bag for attendees to take home! Bitches N Brews
7:00- 7:50- Taster Learning Track: The Science of Tasting Wine. Acids - Tannins - Palate 55 minute | multi wine | sensory experience
If you love wine, you will be stoked to learn from the BEST in this tasting experience! The Wine Academy of Utah "increases wine knowledge...one sip at a time" for both hospitality professionals and enthusiasts alike. They are an approved program provider with the Wine and Spirits Education Trust providing internationally recognized wine certification. Hosting multiple tasting events throughout the community for the beverage enthusiast; ranging from wine to whiskey tastings each month. Wine Academy of Utah
7:15 - 8:00 - Seller Learning Track: Craft Lager a Love Story: Why brewers are so in love with making and drinking lager beer!
Meet Head Brewer Conrad, and be inspired by his journey from homebrewer in Ogden, to becoming genius Brewmaster at one of Portlands hottest breweries. Come ready to ask questions about his amazing craft beer! Judge some Homebrew in this workshop! Culmination Brewing Company
8:00 - 8:40 Seller Learning Track: Distilling Award Winning Products. A Founders Journey.
Winner of countless awards including Gold for their Hugh Moon 100% Rye White Whiskey, [40%] , at the San Francisco World Spirits Competition (SFWSC), one of the most respected and influential spirits competitions in the world. Products awarded a Gold medal are exceptional. They are near the pinnacle of achievement in their particular category. They are products that set the standard for all others of their type. Enjoy tasting this amazing whiskey, along with other award winning products, including Bristlecone Gin: Double Gold Medal – SIP Awards, 2019, 94 Points – Tasting Panel Magazine, 2019, Antelope Island Rum Best of Class from the Miami International RumXP (2017), Well Vodka and Well Gin (Silver SFWSC 2019) and Rum (Bronze SFWSC 2019) -Presented by Founder of Dented Brick Marc Edward Christensen Dented Brick Distillery
8:15 -9:00- Maker Learning Track: Recipe Formulation 101: Moving Beyond the Kit
Get your beer nerd on with homebrewer of the Year, numerous gold metalist, Brew Master at Ogden River Brewing Company Landon Jeffery, and his collegue, Master Beer Judge and also master homebrewer, Kirk Hofling. Learn about intermediate to advanced homebrewing techniques from these true experts in the field. Judge some Homebrew in this workshop! Ogden River Brewing
9:00-9:40 - Taster Learning Track: Becoming a Better Beer Taster.
Meet the Director of Utah Brew Fest and one of 5 Master Beer Judges in Utah! Kelsey Booth will guide you in understanding how to judge a beer based on taste and quality so the next time you have an amazing craft beer you can use words other than "amazing" to describe it! Learn what the Beer Judge Certification Program is all about and get your feet wet by judging some beer during this workshop! Presented by BJCP National judge, Director of Utah Brew Fest and homebrewer, Kelsey Booth
10:00-10:40 Maker/Seller Learning Track: Marcio Buffolo of Shades Brewing.
This workshop is a MUST for anyone who takes home brewing seriously. Marcio is a biologist with Master's Degree in Cell Biology, 7 years as home brewer, 4 years as professional Brewer, 2 years as Brew master for Shades Brewing, 2 GABF Gold medal (2018 for American sour – 2019 for herbs and spice), 5 IBA medals, Walt Powell scholarship for the MBAA beer and science course. Don't forget your notebook for this one!! Be sure to arrive early to get a seat!!
10:15-11:00 -Maker Learning Track: Introduction to Mead Making.
Presented by Ahron Berber, Steven Erb and Brandon Myers. Award winning homebrewers with a passion for Meads. Taste how variances in honey can alter the taste in Meads. You will leave this workshop with a better trained palate along with specific instructions on how to make your own! Ahron took home gold this year at Beehvie Brewoff so come prepared with questions! Judge some Mead in this workshop!
COST
$45 Limited number available (SOLD OUT)
Dec 7th (Saturday) 5:30pm -11:00 pm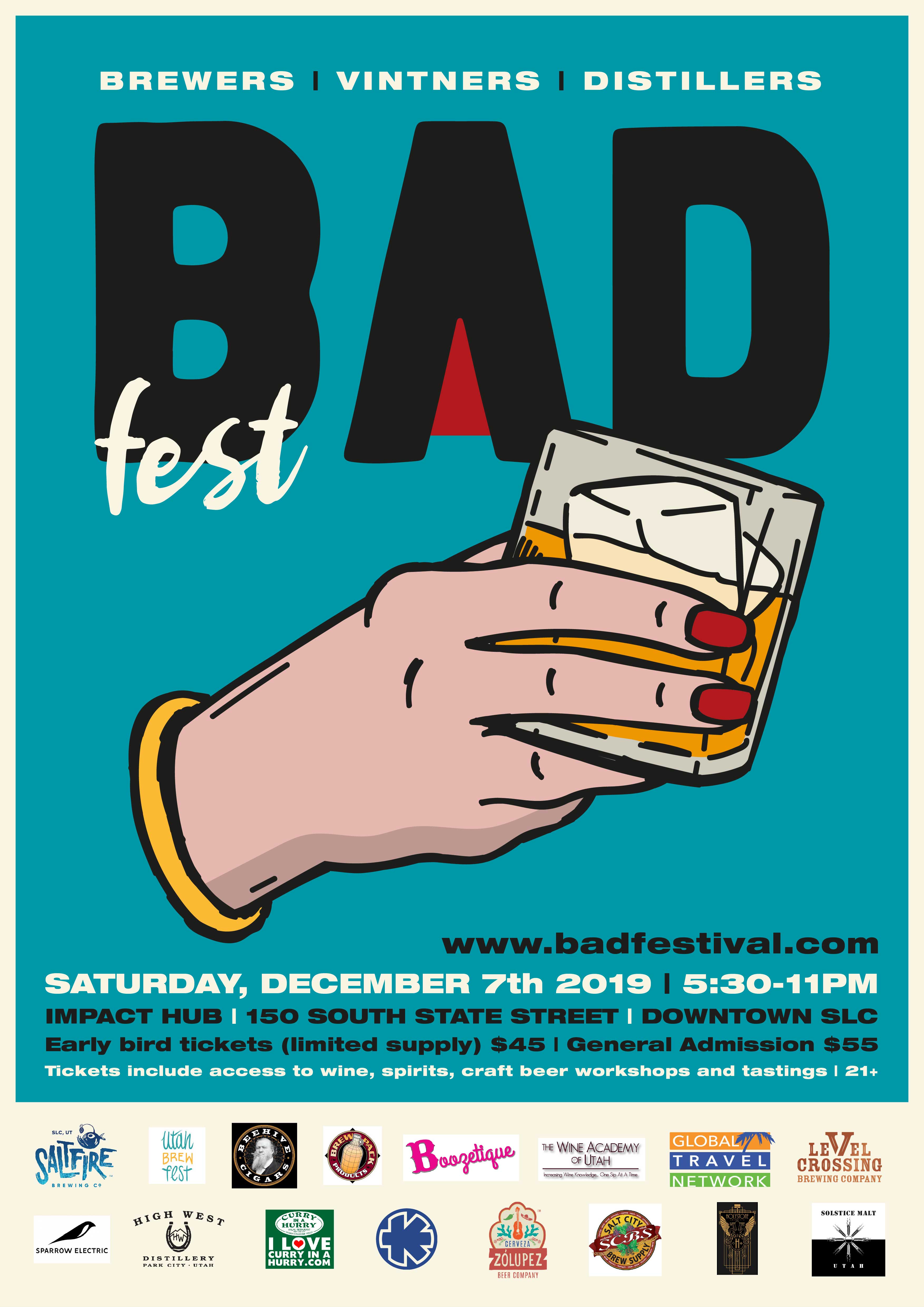 FAQs
Are there ID or minimum age requirements to enter the event?
21 and to infinity and beyond
What are my transportation/parking options for getting to and from the event?
Sledding. taking a green bike, UTA, Lyft, Uber... maybe Santas sleigh after?!
What's the refund policy?
No refunds, but you can always share as a lovely Holiday gift!
Is it ok if the name on my ticket or registration doesn't match the person who attends?
Yes but they need to be 21 and older! Once ticket is scanned it will no longer be valid.