Brewed in Detroit: DBC Brewery Tour

Friday, March 28, 2014 from 6:00 PM to 10:00 PM (EDT)
Event Details
Raise a Glass! Brewed in Detroit tour
Detroit's a beer town, no denying that. Beginning with Bernhard Stroh's family recipe in 1850, the tradition of making great beers is going strong today. Just this year, USA Today ranked Michigan number 5 in the "Best Craft Brew States". Let's work on improving that number, shall we?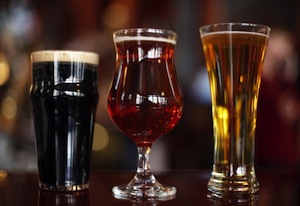 We'll be sampling some fine craft beers at one of the city's finest breweries, Atwater Block Brewery. There we'll hear from Bo the brewer how they make their award-winning beer. Sampling-wise, we're also checking out vodka, gin and whiskey distilling at Valentine Vodka. We'll get our own private tour of the distilling room. The fine folks at Dragonmead will also be showing us the ancient and reviving art of mead-making.
And we'll also explore Detroit's historic tradition of brewing: we were once home to positively dozens of brewing operations, from tiny little mom-and-pops to the giants like Goebel and Pfeiffer. We'll learn the process of making beer, what makes one beer better than another, and how a tiny little temperature change can utterly transform the taste of a brew. Maybe we'll even raise a Stroh in honor of ol' Bernhard. 
What you get out of the deal: You get a ride on a pretty sweet bus to and from all of our stops. You get a private distillery tour at Valentine Vodka, along with some samples of Valentine's goodies. You get a free pint glass filled with the Atwater beer of your choice to sip as we stroll through the brewery and learn how they make beer. And you get samples at Dragonmead plus a private tour from their brewer.
Pick ups: downtown Detroit in front of Foran's Grand Trunk at 5:15 PM and Ferndale in front of Valentine Vodka at 5:55 PM.
FAQ!
What happens if I miss the bus? Will the bus wait for me if I'm late?



If you miss your pickup downtown, you can beat the bus up to Royal Oak or Ferndale and hop on there.

We can't hold the bus for you if you're late, though. Sorry to be so mean about that. There's a schedule to keep and we want everyone to have a good time.
Can I drink on the bus?
Yes, within reason. Take it easy, lampshade. You're on a starting and stopping bus and there aren't frequent bathroom breaks. No, you can't pee on the curb. Also, please only bring things with lids; no open cups. Small coolers only, since the big ones are a safety hazard. And it's just plain illegal to take any open container on or off the bus. Drink on the bus? Sure. At the bar? Absolutely. But no drinks in the no-man's-land in between the two.
What if I can't show up? Will my friend be able to go instead?
Totally. Just let us know ahead of time via hello@thedetroitbus.com and we'll update your tickets with the new name or send them with your printed tickets.
Will you be selling extra seats at the bus?
Nope. Sorry. All passes gotta be bought online. There's a limited number of seats and we want you to have plenty of room - no roof riders no matter how badass that might sound.
What's your refund policy? I want me dubloons.
We'll gladly refund your tickets seven days prior to the day of the event. After that, there's no refunds. Sorry to be so mean about it.
What about weather SNAFUs?
We live in Michigan. Sometimes Mother Nature likes to throw us a curveball. We keep safety as our highest priority. In case of gnarly weather, you'll receive an email the day of the event with a raincheck/snowcheck date. If you cannot make the rescheduled date, you'll get a voucher good for a future tour with us.
Organizer
We're a new take on an old problem of getting around. We do things differently with our own special public services, events and bus rentals. Details can be found at TheDetroitBus.com.
Call (313) 444-BUS1 anytime or find us on Twitter and Facebook. Join up, get on and let's put our city back on wheels. It's time we got going.