Celebrate a day of great craft beer, live music, and food on our Brewdog USA Campus!
About this event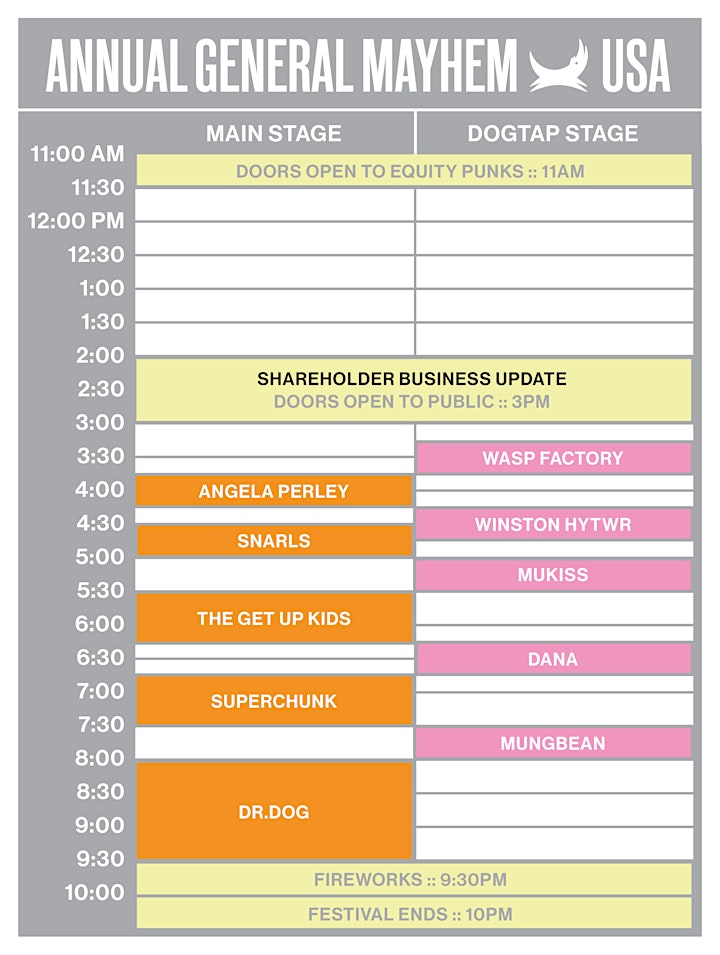 WHAT IS ANNUAL GENERAL MAYHEM?
AGM is BrewDog's Beer, Music & Food Festival held at our HQ brewery to celebrate our Equity Punk Shareholders, our community, and the world of craft beer.
DETAILS:
DATE: Saturday August 28th, 2021 from 11AM - 10PM
TICKETS: Available to Equity Punks and General Admission.
Equity Punk Tickets: $15 ea. | Early entry at 11AM | Includes drink tokens
General Admission: $30 ea. | Open entry at 3PM
LOCATION: BrewDog USA, 96 Gender Road, Canal Winchester, OH, 43110
WHAT TO BRING & WHAT NOT TO BRING:
DO BRING: Chairs, blankets, empty and/or sealed water bottles, koozies, strollers, spray bottles & misters.
DO NOT BRING: Coolers & outside food/drink, weapons, pocketknife, etc. DOGS ARE NOT PERMITTED IN THE AGM BACK FIELD. 🚫🐶 There are going to be a lot of humans, games + music, AND FIREWORKS 🎆 and we want to ensure all furry pals are comfortable + hydrated!
*CONCEALED FIREARMS ARE NOT PERMITTED*
*BAGS, PURSES, TOTES, ETC. SUBJECT TO SEARCH*
PARKING:
To help manage our parking lot, we are offering parking options in Canal Winchester with no advance purchase needed. BrewDog DogTap parking will be reserved for our DogHouse visitors and handicap guests as well as rideshare dropped off/pick up. Plan ahead with these easy parking options or have Uber or Lyft serve as your designated driver!
Park at X Church (6600 Bigerton Bend), located right next door to DogTap, for $5. It's a short walk from their parking lot over to DogTap.
Park at Canal Winchester schools—CW Trail Elementary (6865 Gender Road,) CW Middle School (7155 Parkview Drive,) or CW High School (300 Washington Street)—for $5 and take a shuttle ride over to DogTap. Shuttles will begin at 10:30am.
MUSIC
Dr. Dog, Superchunk, The Get Up Kids, Snarls, Dana, Angela Perley, Winston Hytwr, Wasp Factory, Mungbean, and Mukiss
FOOD TRUCKS
Chilljoy Frozen Treatery, Mikey's Late Night Slice, Pitabilities, SharkTato, Tortilla Mexican Street Food, Zaki Grill, Honey Cup Coffee Co, Hog Back BBQ Pit, Aloha Aina, Beef Bites fur Friends & Family, Arezu Persian, Smoke Shack BBQ & MORE
AGM COVID POLICY
In an effort to provide a safe environment for our guests, vendors and team, we're updating our COVID policy for this year's AGM. To attend AGM on Saturday, Aug. 28, all attendees are required to provide ONE of the following:
1. Proof of full vaccination + your photo ID. A vaccination card OR a picture/copy of your vaccination card meet this requirement. You must have received your second dose (or single J&J dose) at least 14 days before Saturday Aug., 28.
OR
2. A negative COVID test + your photo ID. Email confirmation with negative test results with the test date OR a picture/copy of your negative test results with the test date meet this requirement. Negative test results must be within 72 hours of the event -- Wednesday, Aug. 25 is the earliest a test can be taken in order to qualify. At-home test results will not be accepted.
Attendees unable to show proof of full vaccination or a negative COVID test will not be admitted into AGM and will receive a full refund.
Additionally, AGM attendance this year has been capped to 50% of our last outdoor AGM's guest count. This will provide more space for all attendees and reduce any crowding. There will be multiple hand sanitizer stations around the festival and all cups will be single use (recyclable aluminum of course).
HAVE QUESTIONS?
Please drop a note to equitypunksusa@brewdog.com and we'll help you out!