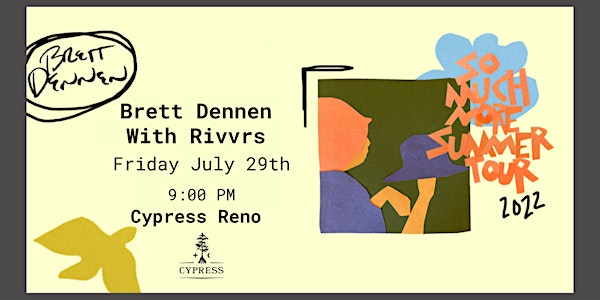 Brett Dennen w/ Rivvrs
As a songwriter, performer, watercolor artist, environmental conservationist and outdoorsman, the shows he performs generate good vibes.
When and where
Location
Cypress Reno 761 South Virginia Street Reno, NV 89501
About this event
Advance Tickets: $30
Door - $35
Our Bar is open at 5:00 PM, Music is at 9:00 PM
For the past fourteen years, Brett Dennen – with his poet's perspective, off-kilter vocals, insane sense of humor, and limitless musical freedom – has turned dancing like no one's watching into a lifestyle. As a songwriter, performer, watercolor artist, and environmental conservationist and outdoorsman, the shows he performs and the events he hosts generate more than good vibes. His impact has been to gather like-minded music fans to consistently try to make the world a better place.  
As a young man in Northern California, Dennen's passion for environmental conservation and his outrage at injustice led him to work as a camp counselor for at-risk youth. There, he used music as a teaching tool. Through song, he could pull different demographics of kids together, he could communicate in a different way with those who found trouble finding their own words, and obviously…guitar + bonfire = good times.
When Brett began to pursue recording and touring professionally, neither his voice nor his intentions changed. His debut album in 2007 kickstarted a career that uses every color of the musical palate. So much so, that with each song, the "musical math" to summarize his sound shifts. From Paul-Simon-meets-Bob-Marley to Violent-Femmes-meets-Buddy-Holly – it's all there over an absolutely iridescent catalogue.  
As with any true artist, Brett's talent surpasses music. He is an incredible painter who focuses on watercolor, a wine lover with his own vintage, and an organizer whose annual "Lift Series" and "Vacationer Series," held in mountain ski towns and beaches, respectively, combine music with activities and conservation.
Previous tours include John Mayer, Dave Mathews Band, Jason Mraz, Rodrigo y Gabriela, Pete Murray, Michael Franti, and others.
Entry requirements are subject to change. By purchasing tickets to this event you agree to abide by entry requirements in effect at the time of the event. Check the venue website leading up to your event for the latest protocols.