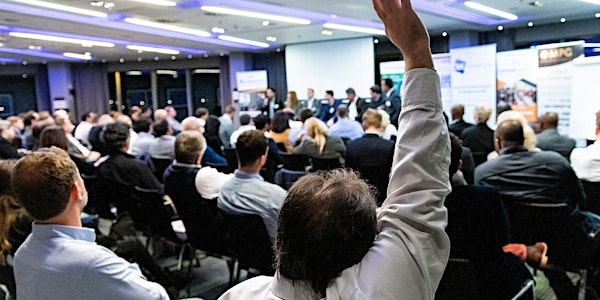 Brendan's Property Brunch
Brendan's Property Brunch includes updates, elevator pitches and breakout rooms
About this event
Expecting 60+ attendees
The session includes:
Planning Update by Peter Higginbottom of Planning Insight
Valuation Updates- Charlie Crocker, Terracotta Ltd
Development Panel- Build, Build , Build- Words or Significant change
Breakout Rooms:
Deals - Jack Jiggens, EXP Property
Design- Ben Richards, Aura Architecture
Funding Update
Who will you network with?
Deverlopers
Investors
Planners
Valuation Surveyors
Funders/Lenders
Other Property Professionals
Who are the panellists?
Daryl Norkett, Relationship Director at LendWell
Jack Jiggens, Director- EXP Property
Paul Higgs- Millbank Group
Pat Conlon- Conlon Development Partners
Thomas Knust- Developer
Aaron Yahaya (Chair)
What will the panel cover?
Changes you've made to your business and process
Things you'll never change about your business and process
What are some of the proposed changes to permitted development rules?
When is the zoom link sent?
7.30am and 9.15am on Monday 6th July
About the Panellists:
Daryl Norkett
Daryl has worked in commercial banking and specialist lending for 10 years, most recently shaping the specialist property lending proposition at Shawbrook Bank as Head of Products & Markets, covering the Specialist BTL, Commercial and Short-Term markets. Prior to this, Daryl worked as a Regional Development Manager for Shawbrook after starting out as a Relationship Manager at Barclays following graduation from University in 2009. Having gained well rounded expertise in property lending, Daryl most enjoys working closely with clients to smoothly deliver funding for their property business.
Jack Jiggens
Jack was born into property. Every house Jack lived in from birth he saw as a building site at some point. After graduating from his Business and Marketing degree at University he starting out hands-on to continue a 40 year family passion in Property.
Once exposed to the onsite process of straightforward Residential Developments and Flips in Oxfordshire, he successfully structured projects independently from purchase through to sale.
Jack now collaborates modern techniques of property development with the families learned expertise to scale into much more exciting projects. This includes; Commercial, Mixed use and Residential Land developments.
He covers Oxfordshire, Berkshire, Buckinghamshire and London.
Jack now has an in-house team and an extended network for Finding and Securing, Planning, Architecture, Build and Management which enables scalability and competitiveness in the market.
Pat Conlon
Patrick has over 35 years of experience both as a developer and a development partner and has successfully developed over 3,000 units in the UK.
He is known as the 'hands-on' guy that gets deals and projects completed and maximises their profitability.
He now works in partnership with other developers on a small number of projects at any one time and has successfully sold to, Barratt Homes, Berkeley Homes, Telford Homes and many more.
Paul Higgs
Paul Higgs is the Land, Planning & Development expert with more than 30 years' experience in the industry sector. Throughout his career he has purchased, gained planning permission for and built over 6,000 residential units and 2,500,000 sq/ft of commercial space.
Following many years in senior positions with Laing Homes and Barratt Developments, in 2003 he formed what is now a multi-million pound property development company, Millbank Group, and in 2013 Millbank Group won The Evening Standard New Homes Award for 'Best Apartment
Thomas Knust
Thomas is a trained accountant and has spent a large proportion of his working life in the Corporate Finance sector. He started investing in property from 2006 and has built up a personal portfolio of seventeen properties. In addition to this Thomas and his partners have exchanged and/or completed on 20 development projects with a total end value of over £200 million. His key strengths are in raising finance and analysing projects.
Presentations/Update by:
About Peter Higginbottom
Peter is a highly experienced Chartered Town Planner who has a detailed understanding of a wide range of town planning issues, together with expertise in the management of consents for a range of project types, including private commercial developments and major infrastructure schemes.
Peter specialises in providing advice and obtaining consents on behalf of developers, architects, public sector organisations and contractors, successfully delivering tangible results on behalf of both private and public sector clients.
Charlie Crocker, Terracotta Ltd
Charlie has been trained by and worked within a large professional organisation where he has developed a strong professional foundation in valuation advisory. In 2012, after 5 years with JLL, he moved to Rio De Janeiro. He returned to London in 2017 and consulted for a number of Surveying firms as an RICS Registered Valuer. In 2019 Terracotta Limited was launched which provides Valuation Surveys, Building Surveys and Development Consultancy.
When is the zoom link sent?
7.30am and 9.15am on Monday 6th July
Agenda:
9.30- Welcome
9.35- Funding Update
9.40- Valuations with Charlie Crocker
9.50- Planning Update with Planning Insight
10.05-Development Panel
10.35- Breakout Rooms
10.55- Final Words