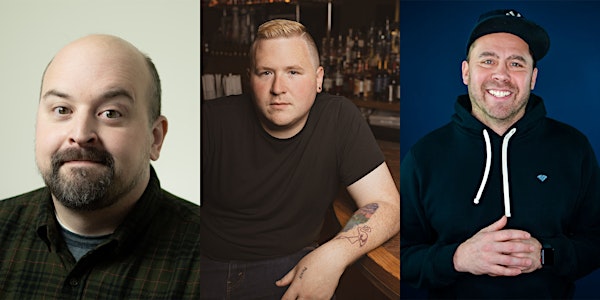 Brendan Sagalow and Aaron Putnam at Capital Prime
Join us for a night of comedy with NYC headliner Brendan Sagalow, featuring Aaron Putnam and Nick Leydorf
When and where
Location
Capital Prime 2324 Showtime Drive Lansing, MI 48912
Refund Policy
Contact the organizer to request a refund.
Eventbrite's fee is nonrefundable.
About this event
Brendan Sagalow:
With Equal Parts Confident Social Observations And Cutting Self-Deprecation, New York City Based Comedian Brendan Sagalow Has Deftly And Defiantly Owned The Stage For Over 10 Years. Brendan's Debut Comedy Album "Not Now More Than Ever" Premiered At Number One On The iTunes Comedy Charts.
Brendan Has Written For MTV's Joking Off. Appeared On The Popular Barstool Sports Series "Answer The Internet" And A Regular Guest On Radio Shows Such As The Jim And Sam Show, Barstool Sports KFC Radio, And The Bonfire With Big Jay Oakerson And Dan Soder. He Also Appeared As A Guest On Vice TV's "Tumbleweeds With Killer Mike".
Brendan Is The Co-Host Of The Podcast Here's The Scenario And Has Been A Guest On Many Popular Podcasts Such As You Know What Dude With Robert Kelly, Are You Garbage?, Ari Shaffirs Skeptic Tank, Tuesdays With Stories, Chrissy Chaos, The Chip Chipperson Podcast, Joe Lists Mindfulmetal Jacket, Guys We Fucked, Calta And Kelly, And Legion Of Skanks.
Brendan Is Always Working Out Material In The Major Comedy Clubs In New York City. You Can See Him Performing Nightly At World Famous Comedy Cellar, New York Comedy Club, And One Time At Rikers Island Where He Bombed For Popular Prison Gang, The Latin Kings.
Aaron Putnam:
Aaron Putnam is an American touring stand up comedian , currently based out of Chicago. You can catch him at his home club. Laugh Factory , as well as many other comedy clubs like Zanies.
He is also the founder of Stand up in Recovery where he brings laughter to drug/ alcohol treatment centers across the country. His comedy is said to be disarmingly funny and vulnerable. Aaron feels blessed to have opened for some of the best comics working today. He says he gets these opportunities because he's the best hang in the biz.
Nick Leydorf:
Nick Leydorf is a fun-loving, Michigan comedian with a quick wit and a third nipple. When he's not on stage, you can find Nick in his office being a lawyer, paying off his student loans. Described as "funny, adorable, and non-threatening" by one writer, Nick talks about his unrelatable profession in such a relatable way that audiences can't help but laugh.
So far, Nick has performed in festivals around the country including Cleveland Comedy Festival, Crossroads Comedy Festival, Gilda's LaughFest, the Detroit Comedy Festival, the Savage Henry Comedy Festival, Big Time Garbage Festival, What a Joke Comedy Festival, Stoop Fest and the Elsie Dairy Festival. Okay, the last one was because Whitesnake had to cancel.
​Oct 8th | 8pm | Capital Prime | $20