Brendan Milburn at Evergreen House

Sunday, May 26, 2019 at 3:00 PM (EDT)
Event Details
Hi Folks, the online box office is now closed but there are 10 seats left so come on down to 1133 Evergreen Avenue and bring some cash.  :)
***********************************************
Evergreen House Concerts

Presents...
Brendan Milburn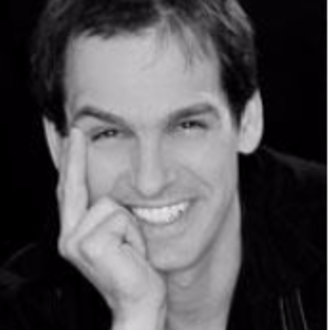 "Brendan Milburn is POP Music personified! Catchy, upbeat and fun tunes ooze out of every pore of his! He is truly the real deal!"  ~ Ahrre Maros
Check out this video of Brendan (w/ GrooveLily) at the Coffee With Conscience Concert Series...
ALSO this video!   Brendan is doing a song a week. Here is song #3 of 262!! 
About Brendan Milburn

Brendan Milburn is a songwriter, teacher, music and gear geek, and a mostly-stay-at-home dad. 
From 1995-2013, Brendan was a tentpole member of a band called GrooveLily, touring the US, Canada, and the Netherlands, co-writing and recording and producing eight albums and several e.p.'s.
In 2002, Brendan steered the band toward musical theatre, which led to their greatest successes, including the Off-Broadway run of STRIKING 12: THE GROOVELILY HOLIDAY SHOW in 2006, earning a rave review in the New York Times: "This modest show is more artfully crafted and engaging than virtually all the standard-mold musicals coming our way these days."
In 2011, Brendan and Co-writer, Valerie Vigoda, turned Shakespeare's Midsummer Night's Dream into a musical and mounted a production of it with sold-out performances at the Paper Mill Playhouse in Milburn, NJ and the State Theater is New Brunswick, NJ. He and fellow Groovelilly bandmates performed in the pit and on stage as minstrels in the production!
Brendan co-wrote a bunch of material for Disney, including TOY STORY: THE MUSICAL (which ran for eight years on the cruise ship Disney Wonder) and songs for four Tinker Bell animated films.

Brendan now teaches 6 days a week at the West Seattle School of Rock, teaching students ages 3 1/2 to 67 how to sing rock music loudly and in tune without hurting themselves, play keyboards, ukelele, guitar, bass, drums, and do music production with Logic, Ableton Live, and other software.
 Here's a pic from the GrooveLily days!   Valerie Vigoda, Brendan Milburn and Gene Lewin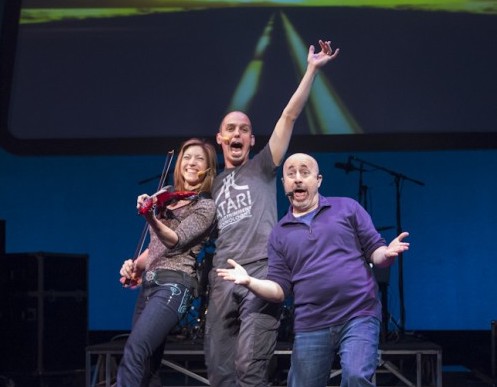 *********************************************************************************************
This will be Pot Luck Affair!
 Pot Luck   'Hors d'oeuvres and Desserts'
 Please arrive at 3:00 PM to share in food and conversation followed by the concert, which starts at 4:00 PM. Coffee will be on hand, but please participate in the potluck by bring something awesome to share with the group, like Food, Wine, Beer, dessert, etc.
Get your tickets now. We can only seat 50 of you!
Important!  The actual street address will be shared by email a few days before the concert.
******************************
Save the dates!
>   Summer Break!   <

Oct  20    TBA

Nov 17    Small Potatoes (...and they're really NOT!)
Dec 15    Sean Altman & the GrooveBarbers Holiday Show! (Oh yeah!)

Jan  26    Funny Song Fest (Mike Agranoff, Carla Ulbrich & John Forster)
Feb  23   Michael McNevin (All the way from the Bay Area!)

Mar  22   Joe Crookston (Finally!)

Apr  19    The Kennedys (Yup!)
May 17    LipBone Redding (OMG!!)
When & Where

Evergreen House Concerts
Evergreen Avenue
Plainfield, NJ 07060


Sunday, May 26, 2019 at 3:00 PM (EDT)
Add to my calendar
Organizer
Ahrre Maros is the owner of Ahrre's Coffee Roastery in Downtown Westfield and Summit (New Jersey), a business he founded in February of 1990. He is also the former Artistic Director and Host of the Coffee With Conscience Concert Series in Westfield, New Jersey, which ran for 15 years until its current Hiatus.
Unable to kick his music addiction, he now presents concerts in his living room and has his guests bring all the food, move his furniture around and pay for the priveledge! He calls this Evergreen House Concerts.

Regardless of what food shows up, the music and coffee are always EXCEPTIONAL!