About this Event
Join Brenda Davis at the 2nd Annual NHA Balance Your Life Health Retreat. The Balance Your Life Retreat, located at the beautiful oceanfront Wyndham Deerfield Beach Resort.
Monday, January 13, 2020
11:00 AM - 12:00 PM
Brenda Davis - Deconstructing Keto and Paleo Diets
Royal Palm A & B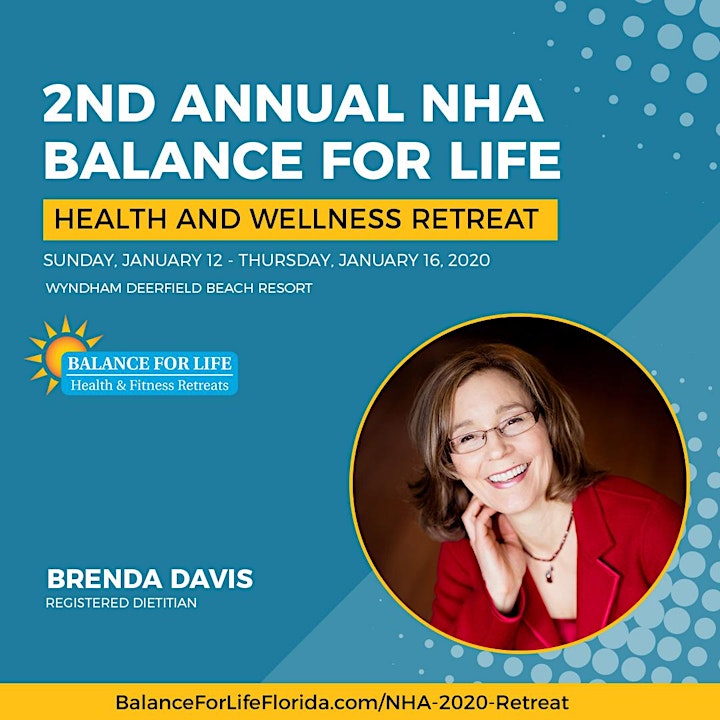 Brenda Davis, a registered dietitian, is a leader in her field and an internationally acclaimed speaker. As a prolific nutrition and health writer, she has co-authored 11 books with over 800,000 copies in print in 14 languages. Her most recent works include Kick Diabetes Essentials (2019), The Kick Diabetes Cookbook (2018), Becoming Vegan: Comprehensive Edition (2014) and Becoming Vegan: Express Edition (2013). Brenda has been a featured speaker at medical and nutrition conferences in over 20 countries on 5 continents. She is also co-author of several peer-reviewed journal articles. Brenda is the lead clinical nutrition specialist for the diabetes intervention project in the Marshall Islands and recently completed a lifestyle intervention demonstration program in Lithuania. Brenda is a past chair of the Vegetarian Nutrition Dietetic Practice Group of the Academy of Nutrition and Dietetics.