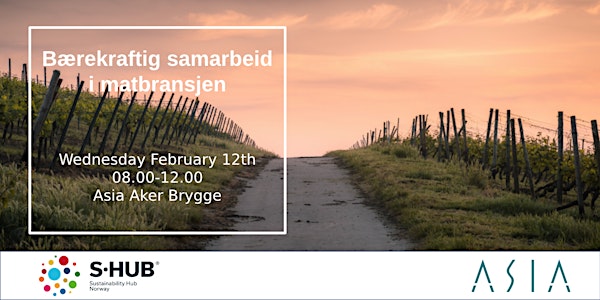 Bærekraftig samarbeid i matbransjen
I samarbeid med Asia Aker Brygge ønsker Sustainability Hub Norway velkommen til kick-off arrangement for Sustainable Food Norway (S-FOOD)
By Sustainability Hub Norway
Date and time
Wednesday, February 12, 2020 · 8am - 12pm CET
Location
ASIA Aker Brygge 1 Stranden 0250 Sentrum Norway
About this event
Tema: Bærekraftig samarbeid i matbransjen
Agenda
- Hva er bærekraftig business?
- Presentasjon av caser om samarbeid for bærekraftig løsninger:
Rema 1000 & KolonihagenArena Oslo
Matvett
GreeNudge
N2 Applied
- Paneldebatt: Hvordan kan vi tilrettelegge for mer samarbeid og partnerskap?-
- Introduksjon av Sustainable Food Norway
- Workshop og utveksling av erfaringer rundt bordene: Diskusjon om samarbeid
Foredragsholdere:
Kaja Østbye Andresen, Sjef for samfunnsansvar og miljø, Rema1000
Jon-Frede Engdahl, Gründer/Strategisk rådgiver Kolonihagen
Anne Marie Schrøder, Kommunikasjonssjef Matvett AS
Kåre Gunnar Fløystad, Business Developer Agronomy N2 Applied
Tormod Olsen, VEO Arena Oslo
Helena Slapø, Daglig leder GreeNudge, PhD kandidat OsloMet
S-FOOD:
Sustainable Food Norway er et nyetablert bedriftsnettverk for mat- og servicebransjen med fokus på å finne bærekraftige løsninger sammen. Vi ønsker å invitere flere i dette samarbeidet.
Nettverket består pt av følgende bedrifter.
Noble Harvest
Toma Facility Services
Rema1000
Farmest
Lett
Nestle
Matvett
Too Good To Go
Orkla Foods
Sustainability Hub Norway
Hanne-Lenes Vegetar
Scandic
Asia
Klimato
​Kjeldsberg
Vi håper å se deg onsdag 12. februar
About the organizer
Sustainability Hub (S-HUB) is the leading platform and community for corporate sustainability in Norway. We are a registered non-profit association existing to elevate sustainable business focusing on strategy and function.