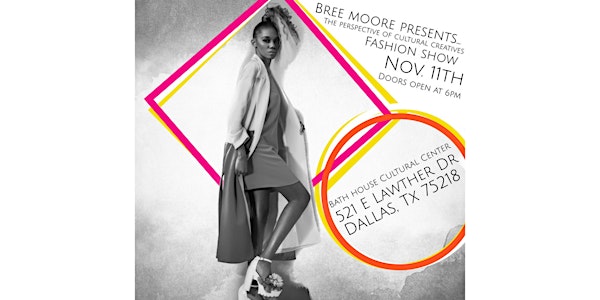 Bree Moore Presents..."The Perspective of Cultural Creatives" Fashion Show
When and where
Location
Bath House Cultural Center 521 East Lawther Drive Dallas, TX 75218
Description
The Perspective of Cultural Creatives
Every year, our purpose is to coordinate fashion shows to benefit an organization, charity or community in need. This year, in Dallas, we want to solely expose the minds of creatives by coordinating a fashion show to display their talents. Cultural Creatives are people that are in tuned with themselves, define their own success, loves to travel to experience different cultures, and highly depend on their ability to create. Cultural Creatives are revolutionary! To learn more about cultural creatives, please click here: http://www.huffingtonpost.com/karin-volo/cultural-creatives-are-ch_b_9857452.html
Dallas is filled with Cultural Creatives!
Do you fall in line as a Cultural Creative? If so, please reach out and be involved in this year's fashion show. Registration is OPEN! Please visit, www.breemoore.com, to register to participate as a volunteer, vendor, designer, hairstylist, makeup artist, or model. We are looking forward to working with Dallas's Cultural Creatives!
About Bree Moore Productions
Bree Moore Productions is a production company that produces exceptional fashion shows. These fashion shows benefit local organizations, charities, and communities in need. Bree Moore Productions is currently open virtually! www.breemoore.com.
​Bree Moore Productions is based virtually at www.breemoore.com. Although the business is conducted solely online, the fashion shows will be held at local venues in the heart of prestigious communities. The main objective is to entertain guests in unique, chic, and highly respected venues. The top three communities chosen were Downtown Dallas, Deep Ellum, and Downtown Fort Worth.
​Bree Moore Productions is dedicated to providing the best experience and value possible to the participants of the fashion show by displaying their brand in front of Dallas's fashionable demographic. The participants will be treated to many benefits including; extensive public relations and promotional opportunities to help showcase products and services. Bree Moore Productions believes in affordability and quality. Therefore, the main goal is to keep prices low while also providing the highest quality production and exposure for the participants.
You can see US featured in these Publications!
The Source: http://thesource.com/2017/03/31/inerd-x-bree-moores-elevation-to-excellence-fashion-show-featuring-volare-was-a-hit-in-philadelphia/
D Magazine: https://www.dmagazine.com/shopping-fashion/2016/08/south-dallas-designer-gives-back-through-fashion-show/
Dallas Weekly: article_eb70b522-1a69-11e7-a515-d76b4edf430b.html