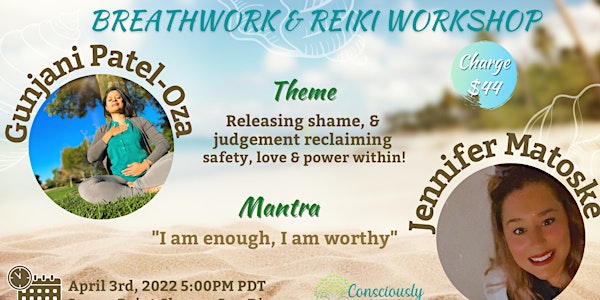 Breathwork & Reiki Workshop
Theme: Releasing shame, and judgment. Mantra: I am enough, I am worthy. Intention - reclaiming love, safety, and power within you!
When and where
Location
Crown Point Shores San Diego San Diego, CA 92109
Refund Policy
Contact the organizer to request a refund.
Eventbrite's fee is nonrefundable.
About this event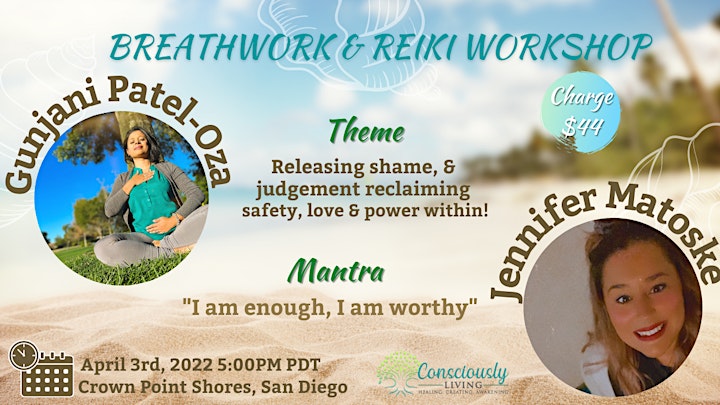 Breathwork is an embodiment practice where we use conscious breathing to breakdown stagnant emotions/stress reponses that wreak havoc on our bodies nervous/energetic systems. It's a self-healing tool that allows us to tap into our bodies' innate intelligence. It helps us feel, heal, release and transform into a better version of ourselves.
Shame shows up in the negative self-talk or self-knowing "I am not worthy, I am unlovable, I am not good enough, I am powerless, helpless, and trapped, I am undeserving, I am a failure" and emotions associated with it are an embarrassment, disappointment, sadness, hurt and pain. Until we work through those from our bodies we keep getting pulled back into those exiled parts and protectors we developed in our childhood that kept us safe then but do not serve us to expand into our full potential in adulthood. The protectors we developed to cope with shame are judging/attacking ourselves, judging or attacking others, people-pleasing to fulfill the inadequacy we felt within us, we deny that it altogether or we withdraw and isolate ourselves from others and freeze, numb ourselves, or hide. Whatever your coping pattern maybe, you don't have to keep operating out of that distortion anymore.
What to expect -
- Awareness of what to release (journaling and sharing circle)
- Releasing old self limiting beliefs and calling in the energy of what your authentic self is ready to manifest in your life (water ceremony)
- Breathwork and Reiki Collective Healing (45 mins)
- Oracle card reading and sharing circle
We, thank you so much for your interest in being a part of this circle with us and taking this next step towards your shift.
We are so excited to guide you through a breathwork & reiki healing session and be a part of your consciously healing, creating, and awakening journey.
Find out more - What is transformational breathwork?
What is Reiki Healing - Reiki is a Japanese form of energy healing, which uses palm healing through which universal energy transferred through my hands to you in order to encourage emotional or physical healing or release. In a group setting, this technique is used to clean and balance the chakras and the masculine and feminine energies, and to help release negative energies that you may be holding onto.
HOW TO PREPARE FOR YOUR SESSION
Make sure you don't eat a big heavy meal before, please bring headphones, eye mask/eye covering, a journal & pen, and a blanket.
Sending you love and light, see you soon. Share this event with as many people as you can who might benefit from this work.