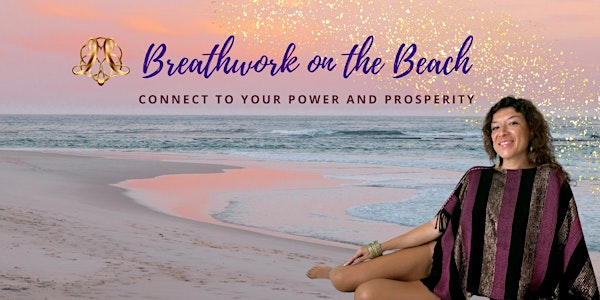 Breathwork on the Beach
Connect to your power, and prosperity through breathwork
When and where
Location
Arverne Beach, Rockaway Beach, NY Arverne Beach Queens, NY 11692
About this event
There is no better teacher to guide you back into your power, and prosperity than nature!
Join me, and an intimate group of like-minded souls for a potent, and healing journey back into connection with self through breathwork at the shores of the ocean.
We will gather for revitalizing activities to bring a flow of oxygen to all the cells of your body in preparation for a 45-minute guided breathwork session done while laying down.
You will be assisted with healing touch as you breathe using a technique called Biodynamic Breath. This session will allow you to relax, quiet your mind and release conscious, and subconscious patterns that block your prosperity and well-being.
Post-breathwork you will be guided in the reflective recording of your personal experience.
We end by coming together in a circle to share and be witnessed as we also serve as witnesses to others and support the collective healing process.
Your ticket includes a 15-minute private Intuitive Connection call with Monica to receive further guidance on your healing journey.
ABOUT YOUR GUIDE: MONICA MARIA APARICIO
Monica Maria Aparicio is the founder of the Lifestyle Lounge and Sustainable Success Live events in New York City, focused on wellness, healing, and conscious entrepreneurship.
She is a healer and teacher at heart, who has helped hundreds of Spiritual Trailblazers to launch and grow conscious businesses.
Born and raised in Queens, New York, Monica was educated at The New School for Social Research in Fine Arts, at The Institute of Integrative Nutrition in holistic health coaching, and at The Biodynamic Breath Institute as a Breathwork facilitator.
Monica has been involved in the areas of personal growth, spirituality, and well-being for over 30 years, and has 12 years of experience in business mentoring.
As a 5D Intuitive Mentor, Monica guides her students to reclaim lost aspects of themselves so they can fully own and value who they are, through a regression process she developed called The Soul Remembrance Process.
Monica's greatest joy is witnessing her students liberate themselves from the past and integrate their life journey into unique wisdom that is a natural expression of who they are and greatly valued by a community they learn to lead and guide.
Monica is also passionate about bringing like-minded people together to create a community she can change the world with. SACRED COMMUNITY was birthed from a deep desire to have a place where other Spiritual trailblazers could belong as they co-create a NEW Earth.
Monica Maria is a Certified Holistic Health Coach, Reiki Master, Clairaudient Intuitive, Akashic Records Reader, Biodynamic Breath Work Facilitator, and a student of Universal Law and Wealth Consciousness for over a decade. Her gift is in lighting the spark that moves her students to break free into the next evolution of their lives and soul's calling.
Find out more about Monica's signature 12-week group training program, Freedom Frequency.