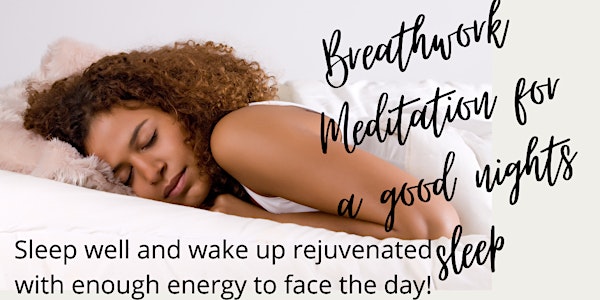 Breathwork & Meditation for a Good Nights Sleep
Learn simple and effective techniques to calm your mind, restore your system, and help you to sleep well .
Date and time
Tuesday, May 30 · 4:30 - 5:30pm PDT
About this event
Tossing and turning at night? Staring at the ceiling wishing you were asleep? Waking up at 2:00 am and unable to fall back to sleep?
The mind body connection is strong and the breath is the link that allows us to manage our minds, and minimize the impact of negative thoughts and emotions on our body. Discover the power of breath to quickly reduce stress and relieve your anxiety and negative emotions.
Join us for a free introduction to the SKY Breath Meditation Workshop. Each session is free, live and interactive.
Discover how the power of your breath can quickly reduce stress, relieve your anxiety, and drop negative emotions.
✔️ We'll breathe
✔️ We'll connect
✔️ We'll meditate
Our one-hour online Zoom sessions include:
• some movement, some fun, and lots of laughter
• a breathing technique that will restore your energy
• a soothing, guided meditation to access deep calm
Led by certified breathwork and meditation experts
** Register now**
The International Association for Human Values' SKY Breath Meditation Workshop is a featured program of #FITDC3. Mayor Muriel Bowser launched the #FITDC3 campaign to empower residents to take control of their health and promote wellness and true fitness for every body, mind, and community in the District.
In the past 40 years, 400 million people in more than 156 countries have experienced deep healing as a result of SKY Breath Meditation. Studies conducted on four continents and published in peer review journals, including Yale and Harvard, have demonstrated a comprehensive range of benefits from practicing SKY Breath Meditation and related breathing exercises .
About the organizer
SKY Schools is an evidence-based, social emotional learning program dedicated to providing youth with the skills and knowledge to achieve all around health and success, including a healthy body, a healthy mind and a healthy lifestyle.  
We do this by offering youth, educators and families practical tools and life skills to increase self awareness, manage stress and emotions, and make responsible life choices.  
Our experiential curriculum includes stretching and exercise, targeted breathing techniques, communication skills, conflict resolution, and life lessons on human values such as responsibility, respect, friendliness, kindness and cooperation.
As students learn how to manage their stress in a healthy way, they exhibit greater confidence and motivation to succeed in school and make healthy choices when faced with life's challenges.  In the schools that we work we consistently see reductions in disciplinary infractions, and increased academic performance, resulting in safer, more peaceful schools.