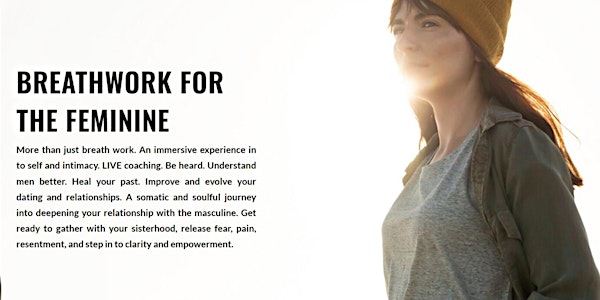 Breathwork For The Feminine | Theme: Grief
A Unique Process of Self-Healing (Ladies-Only)
When and where
Location
Flow Yoga Westgate 4477 South Lamar Boulevard ##420 Austin, TX 78745
About this event
Join us on this somatic journey into deepening your relationship with the masculine.
These carefully curated events are designed to be a ladies-only experience. An opportunity to come together and release fear, pain, resentment, confusion, and struggle. An opportunity to be led by the masculine in a safe, open, and empowering way.
Stefanos holds a safe container and space for women to be themselves, express themselves fully, unload their burdens, and be seen without shame and judgment. The intention of these breathwork containers is to support women and in seeing men differently. To provide a new view of the masculine. To allow the feminine to be wild, free, expressive, sad, angry, and all that in between.
There is no wrong here and "all of you are welcome". So many women have been hurt in the past by men and by the collective masculine. We are here to take women through an empowering journey and a resurrecting of sorts. We heal together by doing the work together. These journey arcs are unique. The experience is more than just a breathwork session, it is a heroine's journey of self-discovery. But to get to that place of self-validation, greater self-love, and reckoning with the masculine we must safely release the things that are holding us back. Stefanos provides the framework for this phoenix from the ashes to emerge.
Please know that each month carries a different theme that allows us to connect in profound ways. The theme for the month of December is GRIEF.
Our immersive is about breaking these paradigms and setting ourselves free. Also note that we follow a familiar structure monthly that is conducive to deeper receiving, connection and healing. However, the intimacy practices and experiential practices change to align with our themes and the energy of the group. So, it truly is a different and unique experience month to month.
You, the women in the container also influence the energetics of the container. Know that when you attend this experience you are breaking generational patterns and also healing on behalf of the collective feminine. Yes, we are here to heal masculine wounds, but hundreds of women in an intentional space doing deep deliberate work are also healing that sister and mother wound. Thank you for your service.
Join us!
It's a unique process of self-healing.
The structure of the experience begins with a deep dive into self with live coaching and exploration around romance, dating, relationships, and understanding self, and the masculine. We then move into somatic practice. Those who partake in breathwork are seeking to explore a unique process of self-healing to begin to move towards recognizing a deeper state of wholeness. Breathwork can be an extremely powerful somatic modality for healing and revealing past and current psychological, spiritual, relational, and emotional pain and fear.
You may experience an expansion of awareness through the techniques offered, and be moved towards a higher state of consciousness.
You may shift to another state. If you are experiencing a feeling of being stuck in your life and unable to advance using other means, breathwork may either complement your current practices or accelerate your growth and breakthroughs. Oftentimes, this feeling of awakening can happen through some form of catharsis.
However, any trauma will only come forward during a session if it is necessary for healing; and the peak experience, cathartic release, or trauma release is not the "goal" of the session. Rather, each person's experience with breathwork is unique, largely self-directed, and unfolds on its own as the practice progresses.
Ultimately, an environment can be created through breathwork to connect you deeply to your body and have the opportunity to feel what's been unfelt and meet what's been unmet.
This is for YOU if...
> You want to experience greater intimacy, connection and trust with the masculine within yourself and outside of yourself
> You want to believe there are great men "out there" and restore your faith in the masculine
> You yearn to be surrounded by like-minded and like-hearted women and community
> You wish to be in greater love and communion with all parts of you and your body
> You ready to experience joy, fun, and bliss in your body, your dating and your life
> You have fears, and patterns of resentment that you are desiring to move through
> You would like to release the blocks around stepping more into your feminine
> You want to know how to attract healthy and committed men into your life
> You want to begin building a deeper level of self-trust in the masculine
> Tired of dating the same unavailable men and/or being used by them
> Tired of the bulls*it on dating apps and want to learn another way
> You have been hurt in the past and are wanting to heal that pain
> You want to experience freedom in your mind, heart and body
> You wish to rewrite your relationship with the masculine
> You wish to empower yourself with your own ability to heal
> You desire to be more confident in your relationships
> You have stuck emotions that you want to shift
> You want to forgive yourself and the past
Then this is for you!
YOU WILL LEARN:
> From a man that is in an empowered relationship and that will be brutally honest and share deep and personal insights
> How to truly let go of the past and see and heal the patterns that are holding you back
> How to stop attracting unhealthy and non-committal relationships
> How to elevate your self-worth. Hint: it has nothing to do with him
> The key to magnetic intimacy and what men truly desire 
> The true meaning of sacred Union and why it matters
> That you are not alone on this journey and;
> How to gain insight into the minds of men
> How to feel safe in your body
WHAT YOU WILL EXPERIENCE:
> Deep exercises to create connection, true hope, and clarity
> > A new way to see yourself, men, and relationships
> Insight into your own patterns and pain
> Sisterhood and connection
> Transformation
Join us in this powerful healing process.
FREQUENTLY ASKED QUESTIONS (PLEASE READ!!!):
ARE THE TICKETS REFUNDABLE?
Tickets for both in-person and live-stream are NON-REFUNDABLE.
HOW WILL I RECEIVE UPDATES REGARDING THE EVENT?
Updates will be sent via email and will also be posted in our Facebook group. The link to the Facebook group will appear in your order confirmation here on Eventbrite as well as the order confirmation email.
WHERE WILL I SEE THE LINK FOR THE VIRTUAL LIVE-STREAM?
You will receive a reminder email containing the link 2 days prior to the event. All event recordings will also be sent to your inbox AFTER the event. If you can't see our emails in your inbox, remember to check for them in your SPAM folder.
We also encourage everyone to join our Facebook group as all updates regarding the events will be posted there as well. The link to the Facebook group will be provided after signing up.
WHAT DO I NEED TO BRING/PREPARE?
Anything that will help you be more comfortable — loose clothing, blankets, mats, layers of clothing, an eye mask is essential, a bottle of water, and yourself.
If you're attending this event virtually from the comfort of your own home or elsewhere, ensure that you have a quiet space. Darkening the room is favorable. Make sure there are no sharp objects near you.
WILL THERE BE VIDEOGRAPHY AND/OR PHOTOGRAPHY?
Yes, parts of the session will be filmed and photographed. The magic that is captured at these events will be utilized to inspire other women to feel safe and curious to also attend and experience possible transformation.
WHAT IS THE STRUCTURE OF THE SESSION?
It is approximately 3 hours in length. We will begin with live coaching and emotional processing, having your questions about self, relationships, dating, love, intimacy, the shadow, and more. We then move into a guided and safe breath work practice. And, finally, integration and sharing.
WHAT IF I HAVEN'T DONE BREATHWORK BEFORE?
Breathwork is open to all levels of education, experience, and practice.
WHAT ARE SOME SENSATIONS I MIGHT EXPERIENCE?
Light-headedness, tingling in the hands and feet, ringing in the ear, yawning, sighing temperature drop, muscle cramping (hands/feet/lips), swallowing, emotional release, sweating, headaches, joy, elation, clarity, memories flooding back, sensations of ideation and creativity.
CAN I BRING A FRIEND?
Yes, absolutely – space is limited, so book now!
IS IT NORMAL TO FEEL BIG FEELINGS AFTER SIGNING UP OR LEADING UP TO BREATHWORK?
Yes, breathwork can be akin to a medicine journey. Once you commit, the intelligence of your body knows and begins to prepare for possible transformation. This is completely normal and common, trust and ride this wave. Also, be discerning and trust your intuitive nudges.
HOW OFTEN SHOULD I PRACTICE BREATHWORK?
Breathwork is completely safe to practice every day. It's recommended to do shorter practices if you are to do it every day. Anywhere from a 5-15 minute daily practice can shift your energy. Longer sessions are recommended periodically when looking to go deeper, move through stagnant/ stuck energy, or find clarity.
I HAVE EXPERIENCED TRAUMA IN MY LIFE, IS BREATHWORK SAFE FOR ME?
It can be, however, consulting a professional and physician first is always advised.
IS THIS JUST FOR SINGLES OR CAN WOMEN IN RELATIONSHIPS ATTEND?
It is absolutely for all women, whether in a relationship or not.
IS THIS EVENT IN-PERSON ONLY OR IS IT ALSO VIRTUAL?
This event is in-person and it will be live-streamed. There will be 2 ticket prices for both the in-person event and the live stream. The live stream will have a lower price point if you can't make it in person, but we highly recommend that you attend in person as the live experience will be extremely powerful.
ALL OTHER DETAILS CAN BE FOUND ON: https://stefanossifandos.com/feminine/