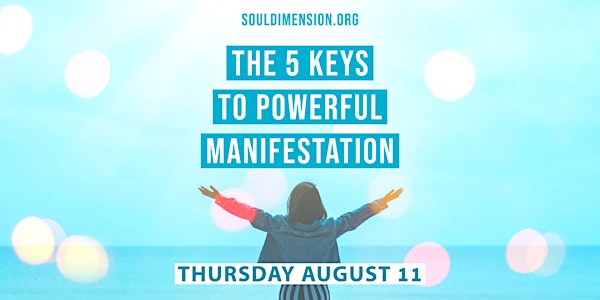 Breathwork Event • 5 Keys to Powerful Manifestation • Stuttgart
Ready to experience an immersion into feeling more consciously awake and connected with your shining energy body, your inner source?
When and where
Location
Soul Dimension Online Event on Zoom 70173 Stuttgart Germany
Refund Policy
Contact the organizer to request a refund.
Eventbrite's fee is nonrefundable.
About this event
The 5 Keys to Powerful Manifestation
Experience the powerful benefits of the Joy of Breathing transformational breathwork. The breathing technique works to quickly and effectively allow you to access a deeper, more conscious connection with the body, mind, heart and spirit.
THIS IS AN ONLINE EVENT
30 Days Access to the Event Video Replay Included
Pranayama & Meditation
Ready to experience an immersion into feeling more consciously awake and connected with your shining energy body, inner source, and intelligent life force within?
Then I encourage you to join me for a joyful immersion into a deeper Joy of Breathing experience.
During this 75 minute online live event, you will be guided through an extended Joy of Breathing Pranayama session, followed by an Inner Peace Meditation.
These monthly events are for anyone who wants to experience a deeper exploration and connection within. This includes experiencing higher brain wave states and profound meditations. In these higher states we access shifts in energy and consciousness.
THE 5 KEYS TO POWERFUL MANIFESTATION
Do you struggle with staying on track to manifest your desires, dreams and goals? Do they seem just out of reach? Have you tried self help programs with the hope and promise of transformation, only to fall short of real results and fulfillment?
I want you to know that it is absolutely possible and within your reach to tap into your power to manifest a reality that is in alignment with achieving your hearts desires, dreams, and goals.
The reality friends, is we ARE already creating our reality, but primarily from the level of subconscious programming. It's this very programming that keeps us stuck in life, manifesting the same self-limiting beliefs day after day. We really are creatures of habit!
And no matter what we want from the level of the conscious mind, until the subconscious programming is changed, we will continue to struggle and fall short of manifesting what we truly want to experience in life.
Join us for an uplifting Joy of Breathing Meditation and Masterclass on Thursday, August 11th and learn the 5 powerful keys to manifesting your dreams and achieving your goals.
AND….not only will you learn the "how" to start to manifest your dreams and achieve your goals, you will also step into manifesting who you TRULY are and CAPABLE of becoming!
When you learn these simple, yet powerful practices on how to create new thoughts and habits that support what you want, they literally become hardwired into your brain as new neural pathways that are in resonance with your hearts true desires.
And this is no hocus pocus, woowhoo talk.
This is science of the brain! This is also how energy works — where we put our attention, energy follows. You will learn how to use the power of your breath, visualization, mindset and perception to unlock your brain, energy and highest vision. You will start shaping your brain, attention and energy to start to work for you, rather than against you.
So, what do YOU truly want to manifest and experience in your life?
At this event, Sylvie will unpack the 5 keys to powerful manifestation and how to implement them NOW. Then we will journey into an extended JOY of Breathing Meditation and experience how to use the keys of manifestation.
The 5 Keys To Powerful Manifestation
1) Intention + Visualizing what you want to manifest. Write down one goal or dream that you want to manifest in your life. Feel the emotion of it. Allow your mind and heart to be free to explore, express and imagine the fulfillment of your goal.
2) Establish a new Mindset from the level of heart/mind coherence with neural linking. Learn the science of how to create new connections that empower you to TRANSFORM self-limiting patterns of belief.
3) Expand your Perception with the new experiences and insights that arise during your Joy of Breathing sessions. See and feel yourself moving closer and closer to your desires and future self. How does it feel to have your desires fulfilled in this moment?
4) Consistent Breathwork to connect with your higher brain, heart and expanded self-awareness. See and feel yourself moving closer and closer to your desires and future self. How does it feel to have your desires fulfilled in this moment?
5) Daily Repetition is the key to creating lasting change. Science has shown it takes approximately 90-300 days to fully establish new neural networks.
Once you learn and start implementing these practices into your daily life, you will become really good at it. In effect, you will be creating a new habit AND a new reality that is your HIGHEST TRUTH. You will become more attuned to your heart and how to use the power of your mind as mental energy moving where you want to direct it. In effect, you will become a master of your mind and consciousness.
"As you start to walk on the way, the way appears." -Rumi
Agenda
Introduction & instructions
Deep breathing session
Power of Affirmations meditation
Relaxation
Sharing & questions and answers
Attending Event
Connect on Zoom 10 minutes prior to class start time and silence cell phones
Wear comfortable clothing
Refrain from eating 1.5 to 2 hours before practice
Yoga mat and a blanket might help you feel comfortable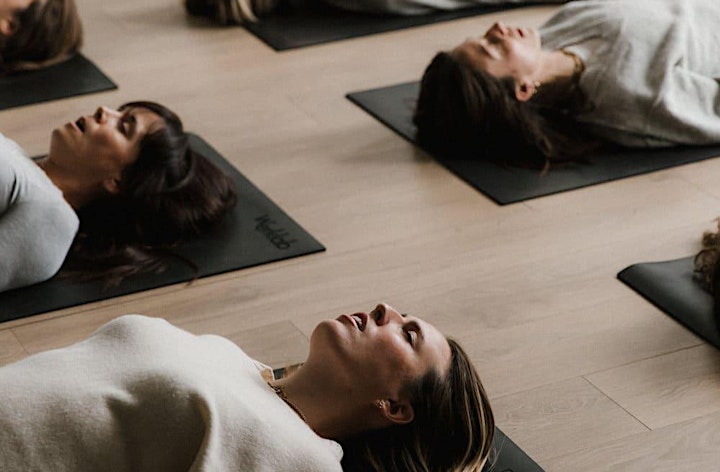 Benefits of Breathwork
Several scientific studies have demonstrated the great benefits of breathwork:
Increase inner joy
Relax the body and mind
Reduce the stress response
Balance the nervous system
Reduce anxiety
Decrease inflammation
Improve mental clarity
Strengthen the immune system
Increase longevity
Improve sleep quality
And much more...
Testimonials
"My first time, incredible, I've never felt that before thank you so much." - Rachael Roberts
"I felt like I was levitating at one point. I feel healthier right now. Can't wait to do this again." - Nancy DelSanto
"Think I have just experienced my first third eye actual awareness." - Robert McLean
"Thank you - my headache has gone!" - L. Botez
"This is my first time doing this. It was amazing... Got strong vibrations through my head." - Daniel
"My hands were vibrating a lot and then I started hearing noise, almost that sound when your ears are ringing. Feel great now, very relaxed!" - Kathy H.
"This is my favorite part of Wednesday! I have been joining for a couple months and have grown in understanding and breath control 💖" - Saundra
"I will definitely be back each Wednesday. I feel so grateful to have found this. You bring beautiful energy and teach this practice so well. Thank you so very much!" - Tara Link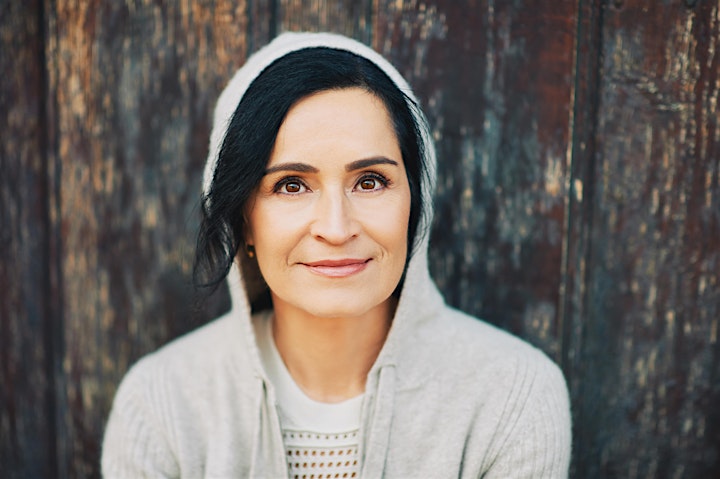 Sylvie Horvath
#yoga #pranayama #breathwork
I have been guiding spiritual seekers for over 30 years with the self-transformative teachings of yoga, pranayama, transformational breathwork and meditation.
It is my pleasure and honor to guide you toward self-empowerment, transformation, and awakened consciousness. I will help you connect to your deepest self and inner guide, from the physical to the soul dimension.
About Soul Dimension