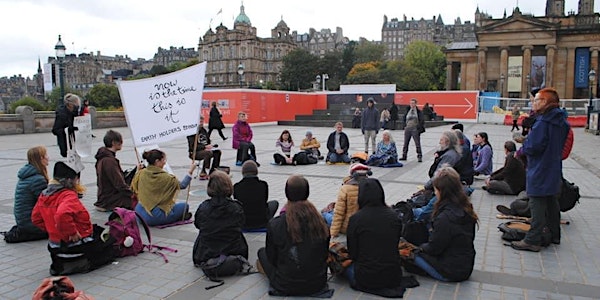 Breathing for the Earth: Bringing Stillness to Edinburgh City Centre
Mindfulness meditation in the busy heart of Edinburgh
When and where
Location
St Mary's Catholic Cathedral 61 York Place Edinburgh EH1 3JD United Kingdom
About this event
As the Climate and Ecological Emergency intensifies around us, join Earth Holders Edinburgh every Saturday nearest the full moon for "Breathing for the Earth", bringing mindfulness to the busy city centre.
Let's pause the treadmill of activity for little while and simply rest in silence. We will sit together in meditation or silent contemplation in a public space at the heart of Edinburgh (outside St Mary's Cathedral near John Lewis at the top of Leith Walk), expressing our love for the Earth and all life.
Coming together in this way can be a powerful experience, and even more so in a busy public space. By meditating together in the midst of consumerism, we can openly express our choice to live with contentment and gratitude, knowing that true happiness isn't found in accumulating material wealth and doesn't need to come with a hefty carbon footprint attached.
By reflecting deeply, we realise our inter-connectedness and how ensuring a safe future for all life on Earth is the only way to ensure a safe and happy future for ourselves.
Breathing for the Earth is about safe, meditative actions, which are non-confrontational and don't involve civil disobedience. We won't be deliberately disrupting anyone.
(This event was formerly know as Silent Rebellion, but in view of the fact that no civil disobedience is involved, we decided Breathing for the Earth was a more accurate title.)
Please bring along:
a mask or other face covering
a cushion, stool or chair as required (if available)
placards and banners for display (optional)
warm clothes
wet weather gear if rain is forecast
We will meditate for 90 minutes - alternating between sitting and walking meditation. Please feel free to join us for any amount of time during that period – dropping in and out is welcome.
The event will include guided meditation as well as simply sitting in peaceful silence. Those with no prior experience are very welcome. At the start of the event there will be a beginner-friendly guided meditation and experienced meditation practitioners will answer any questions and offer support.
Earth Holders Edinburgh is a community taking mindful action for Mother Earth. We practice non-violent direct action for the sake of our beloved planet and all life. We see this as an integral part of our spiritual life, balancing the inner path of mindfulness with the outer path of action. We come from different spiritual traditions, and are open to members of all faiths and none. We draw strength and wisdom from our connection with nature and with the Earth. We are an evolving and inclusive group actively seeking new members. You can sign up to our newsletter or see our full purpose statement here.
The Silent Rebellion movement originated in Cambridge, where XR Cambridge has held several peaceful public meditations.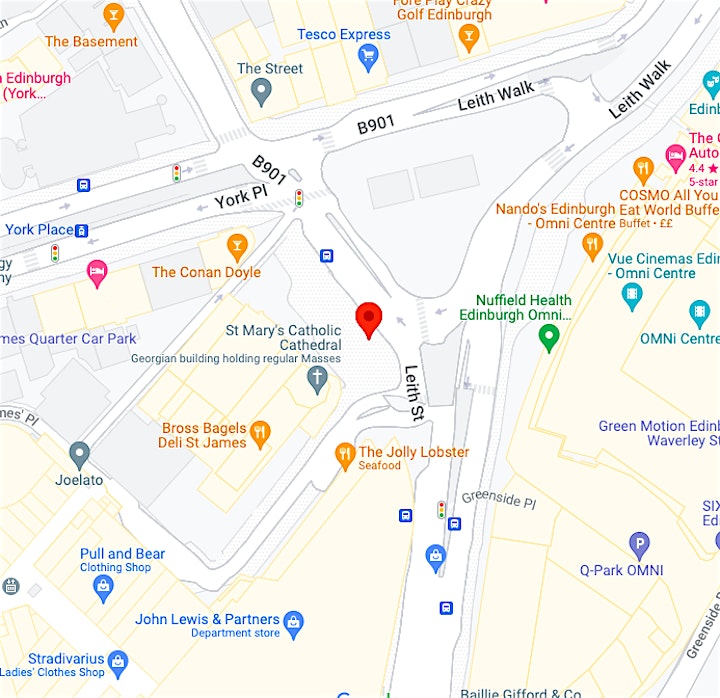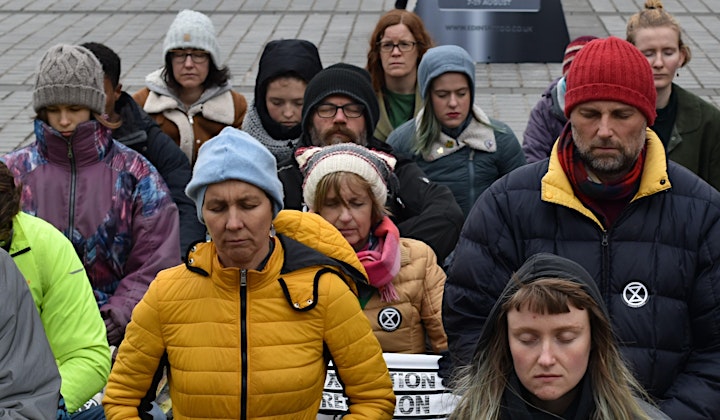 Upcoming Breathing for the Earth dates:
Sat 8 October
Sat 5 November (Samhain)
Sat 10 December
Sat 7 January 2023