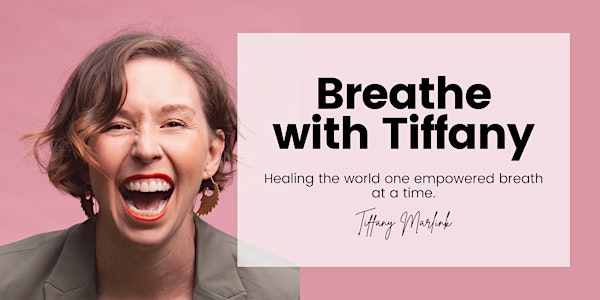 Breathe with Tiffany
A 2-hour healing journey to support your physical, mental, emotional and energetic wellbeing.
Date and time
Saturday, March 13, 2021 · 10am - 12pm PST
Refund Policy
Contact the organizer to request a refund.
Eventbrite's fee is nonrefundable.
About this event
What to expect:
Reiki energy healing from 2 intuitive energy healers
Journal prompts for reflection and conscious creation
Intention setting
Grounding meditation
Invocation to seal in your intentions and invite Spirit Guides
Intuitively guided Breathwork journey using a two-part active breath
Integration practice to connect to your Higher Self/Source/heart wisdom
We are intentionally gathering under the influence of the Pisces New Moon and will be utilizing the energetic themes that are present to amplify your intentions and healing experience.
This event will be recorded and a 48-hour replay will be made available to those who register.
This may be for you if:
you want to experience relief from physical, mental or emotional discomfort or limitation
you believe you are capable of healing and wholeness
you are open to receiving energetic support during your healing journey
you are willing to take responsibility for your healing and conscious evolution
you enjoy working with the divine (ex. Higher Self, Spirit Guides, Source, etc.)
you want to develop your intuition and connect to the wisdom within your heart
you are curious or straight up in love with the mystical, magical and miraculous
By participating in Breathe with Tiffany you may:
Reduce stress, anxiety and overwhelm
Release anger
Increase mental clarity
Breakthrough creativity blocks
Detoxify the body
Boost immunity
Release trauma from the body
Increase energy levels
Access higher states of consciousness
Increase self-love, self-esteem and self-awareness
Improve sleep
Receive intuitive guidance and higher wisdom
Feel your connection to Spirit/Source/God
What to bring:
Journal or notebook
Candle
Eye pillow, mask or covering
Headphones
Kleenex
Other Preparation:
The active breathing portion is practiced laying flat. You can use a yoga mat on the ground or lay on a bed or couch.
Dress in layers or have a blanket available as your body temperature may change during the active breathing.
Active breathing is best practiced on a light belly. Refrain from eating or drinking 1 – 2 hours before we begin.
Your Guides & Healers:
Tiffany Marlink, Spiritual Teacher and Intuitive Healer, will be guiding you on your journey. You can learn more about Tiffany by visiting her website: www.tiffanymarlink.com
Tanya Sisson, Intuitive Life Coach and Healer, will be supporting you energetically during the journey. You can learn more about Tanya by visiting her website: www.tanyasisson.com
Contraindications:
Breathwork may cause intense physical or emotional release. It is not advised for persons with a history of cardiovascular disease, including angina or heart attack, high blood pressure, glaucoma, retinal detachment, osteoporosis, significant recent physical injuries or surgery. Breathwork is not advised for persons with severe mental illness or seizure disorders or for persons using major medications. It is also unsuitable for anyone with a personal or family history of aneurysms. Pregnant women are advised against practicing Breathwork without first consulting and getting approval from their primary care physician. Persons with asthma should bring their inhaler and consult with their primary care physician before participating.
If you have any of the contraindications above, you are welcome to attend and will be guided to use a therapeutic breath practice instead of the active breath practice.
Disclosures:
Breathwork, Reiki and energetic healing help rejuvenate the body's ability to relax and, therefore, support the body's ability to heal itself. Although one session may be adequate, long-term imbalances in the body may require multiple sessions. Improvement often requires commitment on the participant's part, for example, willingness to make lifestyle changes, in order to fully benefit from the energetic healing.
It is believed that the energy is guided by Source/Spirit/God for the physical, mental, emotional, and/or spiritual wellbeing of the participant. Therefore, a specific outcome cannot be guaranteed.
Liability Release:
When you register to attend this event, you acknowledge that you are responsible for your own participation and agree to the following:
I recognize that there are certain inherent risks associated with Breathe with Tiffany and I assume full responsibility for personal injury to myself, and further release and discharge Tiffany Marlink and Tanya Sisson for injury, loss or damage arising out of my participation in Breathe with Tiffany, whether caused by the fault of myself, Tiffany Marlink, Tanya Sisson or other third parties.
About the organizer
You didn't come into this world to be squished into that tiny and uncomfortable box of a life. You came here to grow, learn and shine your authentic light. If you are ready to break free from your limitations and start becoming the person you want to be, I hope you will join Tiffany for one of her healing experiences.
Each experience is curated with personal and spiritual development practices that promote physical, mental and emotional wellbeing. As a spiritual teacher and intuitive energy healer, Tiffany will support you in remembering who you are, why you are here and the gifts that you chose to bring into this world.
Tiffany is a certified I AM Alchemy practitioner. This year long certification and mentorship program was completed through Joy of Energy. She is certified by the International Coaching Federation (ACC)and she earned a Whole Person Coaching certification through Coach Training World. Tiffany is Usui Shiki Royho Reiki attuned and has taken multiple courses to develop her intuitive abilities. She is also certified as an Infinite Possibilities: The Art of Living Your Dreams Trainer.  
To learn more about Tiffany's other events or to join her free subscription, please visit her website (www.tiffanymarlink.com).