Description

BREATHE is an interactive wellness experience + pop-up market, which brings together conscious business owners and the community while sharing the love and passion for creativity and healing!
This event is designed for creative entrepreneurs, spiritual leaders, holistic practitioners, healers, educators, and wellness-focused business owners, as well as those who want to experience creative and healing offerings.
Community members can explore unique healing modalities by expert practioners, while sampling and enjoying foods, music, products, services, speakers, and a community healing circle from various creative minds and hands!
Connect with like-minded spirits, check out various creative vendors, enjoy delicious foods, learn and expand your awareness for healing, raise your vibrations and just breathe.
This is not your traditional pop-up market. It's an experience! Come BREATHE with us.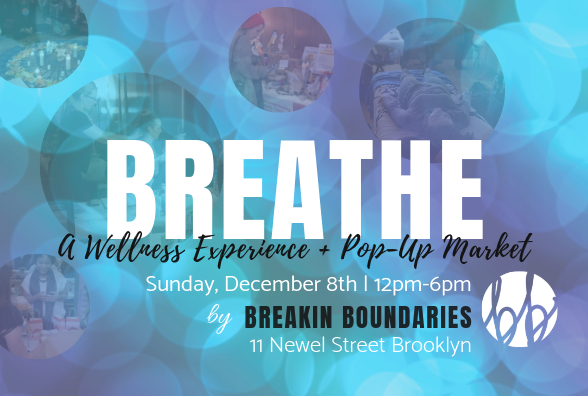 Your ticket includes:
Meet and connect with other like-minded community members

Access to community offerings by experts in the wellness and holistic fields - including a 30 minute cacao ceremony with Manifest Your Soul at 3:30pm

Attune to the vibration of higher conscious healing with our expert Wellness Healing Teacher


Shop for some of the best products and services the community of creative minds and hands have to offer

Yummy, healthy passed hors d'oeuvres and beverages to keep you satisfied and refreshed all day!


DAY OF SCHEDULE
12:30pm - Opening guided meditation with Elana Bell
1:00pm - Speaker 1
1:30pm - Speaker 2
2:00pm - Speaker 3
2:30pm - Speaker 4
3:00pm - Speaker 5
3:30pm - Cacao ceremony with Graciela Asher
6:00pm - Unveiling of new modality to Breathe partners with Renee Manzolillo

*Event facilitated by Renee Manzolillo

---

Some of this years vendors include:
* Culiraw - Raw vegan desserts
* ADashofLuxe - Candles
* A Piece of Me Skincare - Herbalist
* Soul Magic Healing - Cacao bars
* Spark of Play - Coaching and wellness programs
* Core - Ultra purified water
* Embellish Galore - Accessories & vintage goods
* Love Energy Nature - Bath & body products
* Hypno Soul Coaching - Shamanic tools & essential oils
* Dharmini Creative - Handmade local pottery
* Lindai's Bodywork - Reiki
* The Stress Less Company - Coaching services
* DM Acupuncture - Acupuncture
* Rodan + Fields - Skincare

View more here: breakinboundariesnyc.com/breathe
---

Want to know how you can BREATHE with us?

As an entrepreneur we know how hard it can be to find your footing and grounding. BREATHE is an opportunity for business owners to network with other like minded businesses.
BREATHE is a way for you to show case your gifts and brand to the world! This an opportunity to increase visibility, make new relationships, and gain new prospects.Growing your business is about the experience. BREATHE into it!