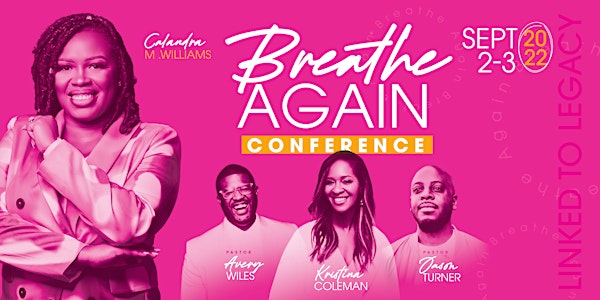 Breathe Again Conference 2022 - Linked to Legacy Virtual Experience
Join Calandra M. Williams this September for a revival weekend to just BREATHE AGAIN! Learn what it means to be "Linked to Legacy"!
About this event
Get ready for the Breathe Again 2022!This conference is curated for every woman who needs to experience a new life & restoration, both physically and spiritually. Breathe Again Conference is about accessing the dead things in our lives that need to be brought back to life. Redefining how we link to purpose, promise, and people by addressing the issues which plague us both naturally and spiritually. Empowering us to believe we are "Linked to Legacy"! The conference is an experience to encounter the outpouring of the Holy Spirit. Join Calandra Williams, Pastor Avery Wiles, Dr. Kristina Coleman, Pastor Jason Turner, and more for this power packed weekend!
Grab your conference merchandise in add-ons during registration.
Looking for in person tickets? Tap here.
Breathe Again Conference Schedule:
Saturday, September 3rd
Morning Session:
Starts at 11am
Afternoon Session and close out: 2pm
Have a question about Breathe Again Conference 2022? Email us at info@breatheagainconference.com!