We create immersive experiences using innovative technology to move and inspire humanity into a pluralistic society.
About this event
BREATH is a multimedia immersive art installation that uses portraiture, video and projection mapping through storytelling to honour and celebrate the contributions of Black and Indigenous women.
Through our partnership with the Shenkman Arts Centre, we are creating an indoor immersive art installation.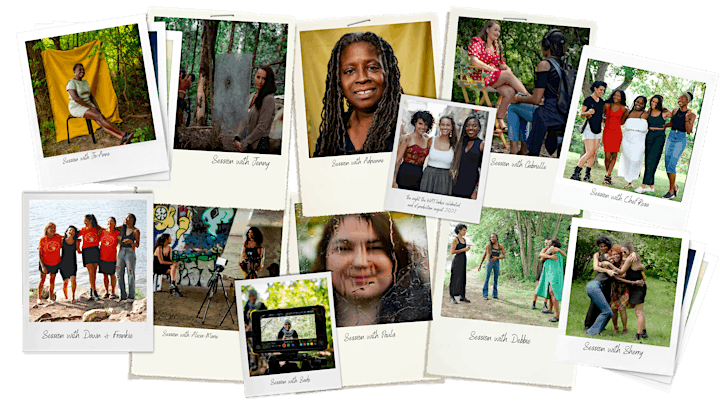 #WOMENOFWATER
Adrienne Coddett, Community Activist, Radio Host, Educator and Founder of 3Dreads and a Baldhead
Alicia-Marie LeJour, Community Activist and Co-founder of the Ottawa Black Diaspora Coalition
Dawn Iehstoseranón:nha(She Keeps the Feathers)Setford Francis, President and Founder of the Indigenous Arts Collective of Canada
Debbie Owusu-Akyeeah, Community Activist and Executive Director of the Centre for Gender and Sexual Diversity (CCGSD)
Frankie Pasapa, Cultural Program Coordinator at Minwaashin Lodge
Gabrielle Fayant, Co-founder of the Assembly of Seven Generations
Jenny (Sâwanohk) Sutherland, Founder and Owner of Misiwe Ni Relations Healing Lodge
Jo-Anne Bryan, Deaf Artist, Community Activist, ASL Consultant and Interpreter
Paula MacDonald, Deaf Interpreter, Community Activist and Webinar Coordinator at Canadian Association of the Deaf
Resa Solomon-St. Lewis, Founder, Baccanalle and Co-Founder, Afrotechture
Sado Ibrahim, Community Health Worker at the Pinecrest-Queensway Community Health Centre
Shery Alexander Heinis, Poet, writer and Co-founder/President, In Our Tongues
HERE'S WHAT TO KNOW...
What exactly is the exhibit?
Our exhibit is a combination of a 60-min art film of visuals accompanied with audio and some ASL interpretation projected on three main screens with other materials-based sculptures to transform the black box theatre space at the Shenkman Arts Centre into an immersive 270 degree experience.
It will both inspire and transport attendees to lush landscapes by the water during summertime, as we meet with 13 strong women, who are shaping our communities.
What is the duration of the exhibit?
It'll be a one-hour timed entry experience.
What can I bring with me?
Preferably an open-mind..to learn more about the experiences of racialized women shaping our communities.
Because of this, we strongly reecommend turning off all cellphones and digital distractions while at the exhibit.
How long is the exhibit running for?
Our exhibit at the Shenkman Arts Centre will run from September 27th - October 3rd, 2021.
Can I bring my kids if they are less than 16 years old?
Yes you can.
Where in the Shenkman Arts Centre will this exhibit take place?
We will showcase our exhibit at the Richcraft Theatre in the Shenkman Arts Centre.
Will there be seating?
Yes we will have some seating options. But we want to encourage full immersion into the experience of the exhibit. So we also strongly encourage sitting on the ground in solitude as if in meditation, laying down on a mat that you can bring or standing (if you require).
Is the exhibit and the venue accessible?
Yes and Yes. The exhibit itself will have some ASL interpretation and closed-captioning in English language (we are hopeful to have some French translation before launch date on Sept. 27th).
And for more information about accessibility at the Shenkman Arts Centre, please visit: Accessibility at Shenkman Arts Centre
Any COVID-19 / Public Health Safety Plan in place?
Yes, visit the Shenkman Arts Centre website, for more info.
------
We look forward to having you join us for our first installation of BREATH, #WomenofWater, as we celebrate 13 Black and Indigenous women contributing to the growth and wellbeing of our communities. Our goal is to create a window into their perspectives, and emphasize the contributions they make towards society.