INHALE LOVE, EXHALE BULLSH*T
About this event
𝐍𝐨 𝐦𝐚𝐭𝐭𝐞𝐫 𝐰𝐡𝐚𝐭 𝐢𝐬 𝐡𝐚𝐩𝐩𝐞𝐧𝐢𝐧𝐠,
𝑩 𝑹 𝑬 𝑨 𝑻 𝑯 𝑬.
This weekly Online Yoga Class will have you feeling 𝙣𝙚𝙭𝙩 𝙡𝙚𝙫𝙚𝙡. ☺️✨
It is incredible what 𝑩𝑹𝑬𝑨𝑻𝑯 & 𝑭𝑳𝑶𝑾 can do for the mind, body & soul.
𝙏𝙝𝙞𝙨 𝙛𝙚𝙚𝙡 𝙜𝙤𝙤𝙙 𝙛𝙡𝙤𝙬 𝙞𝙨 𝙨𝙞𝙯𝙚 𝙞𝙣𝙘𝙡𝙪𝙨𝙞𝙫𝙚 𝙖𝙣𝙙 𝙗𝙚𝙜𝙞𝙣𝙣𝙚𝙧 𝙛𝙧𝙞𝙚𝙣𝙙𝙡𝙮. ✌🏼
Every Friday we will be doing a new flow and new breath (pranayama) practice. Steadily build flexibly, strength and focus with this Hatha-inspired experience.
ɴᴏ ᴄᴏꜱᴛ ᴛᴏ ꜱɪɢɴ ᴜᴘ.
ᴅᴏɴᴀᴛɪᴏɴ // ꜱʟɪᴅɪɴɢ ꜱᴄᴀʟᴇ $10 - $20 ʜᴇᴀʀᴛ-ᴏꜰꜰᴇʀɪɴɢ.
Payment details provided in confirmation email.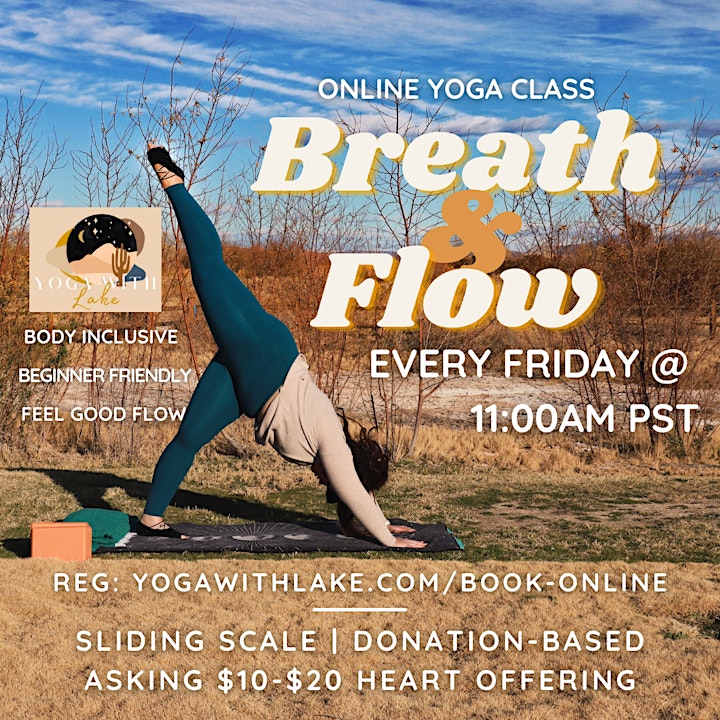 Organizer of Breath & Flow: A Virtual Yoga Class for All Levels & All Bodies